What's New in 6.0
Version 6.0 of the JGI Genome Portal is chock-full of exciting new features! Keep reading for a quick glance at some of the new things you can do with the portal! If you are new to the portal, you might also want to check out the new features from our previous release here.
New Ways to Navigate!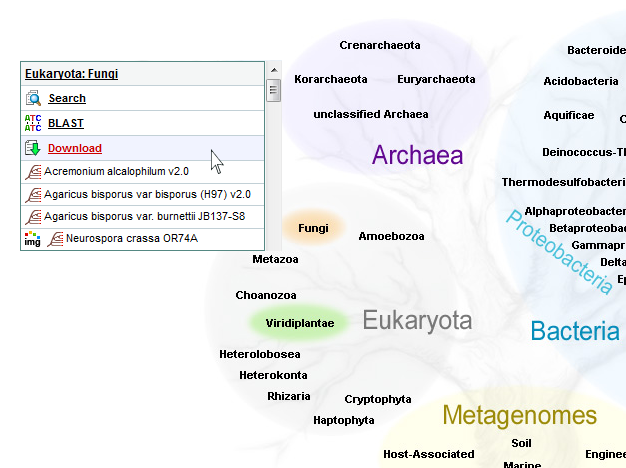 The "Tree of Life" has evolved! Take a closer look at the primary navigation tool on the portal front page and you will find that it now serves as a jumping-off point for a wide range of resources:
New BLAST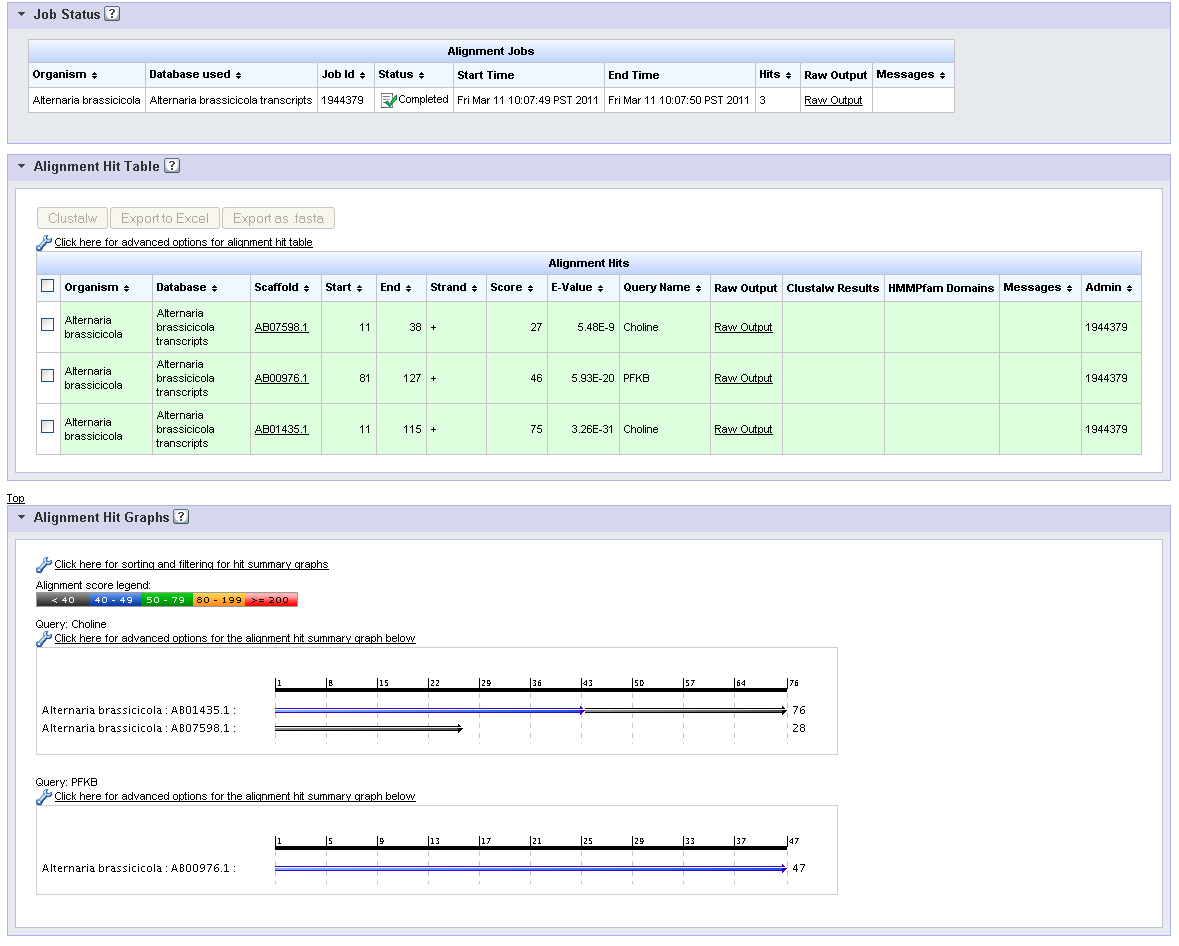 You spoke and we listened! The JGI Alignment Search tool has been completely revamped:
New streamlined user interface and improved performance. Submit your search, monitor its progress, and view results from within the same intuitive web application.
Perform alignment searches across multiple genomes in the same organism group .
Do more with your hits!

Run multiple alignments with ClustalW.
Export them in Excel and FASTA formats.
View PFAM domain information for each hit.
Also, all alignment search results are now stored for future use on your myPortal page!
Powerful New Gene Search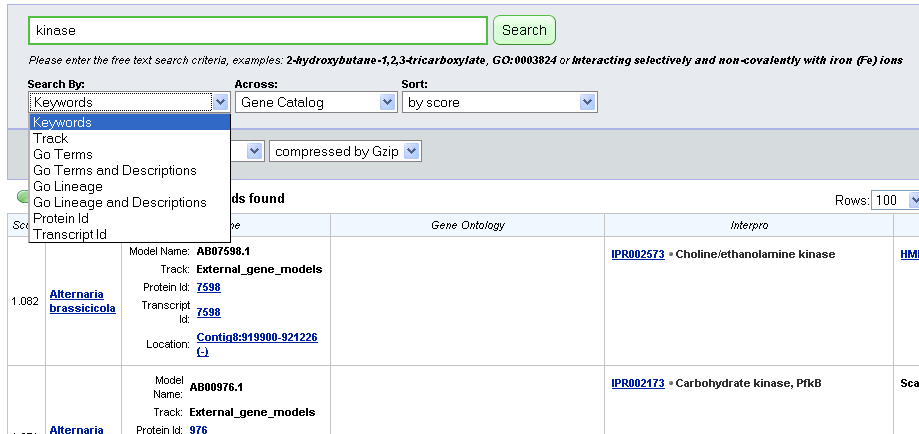 The new Gene Search allows you to easily search for proteins by keyword, protein id, and many annotations such as GO id, InterPro domain, and KEGG classification. You can search within a single genome or across a genome group.
Results of your search are displayed in a table that is rich with information about your hits, including functional annotation and links to the transcript page, protein page, and genome browser. All of this is made possible under the hood by a powerful new indexing engine that is continually compiling all annotation information for all genes in all JGI genomes.
Vista Integration: More ways to explore synteny!

Building on the introduction of the Vista Synteny Viewer in Portal 5.0, you can now examine whole genome alignments with three interconnected Vista tools embedded within the portal. While maintaining the same position within an alignment, you can switch among the original synteny viewer, a dynamic dot plot viewer, and VistaPoint, which allows you to examine and download individual high-scoring pairs within the alignment.
Portals for Organism "Groups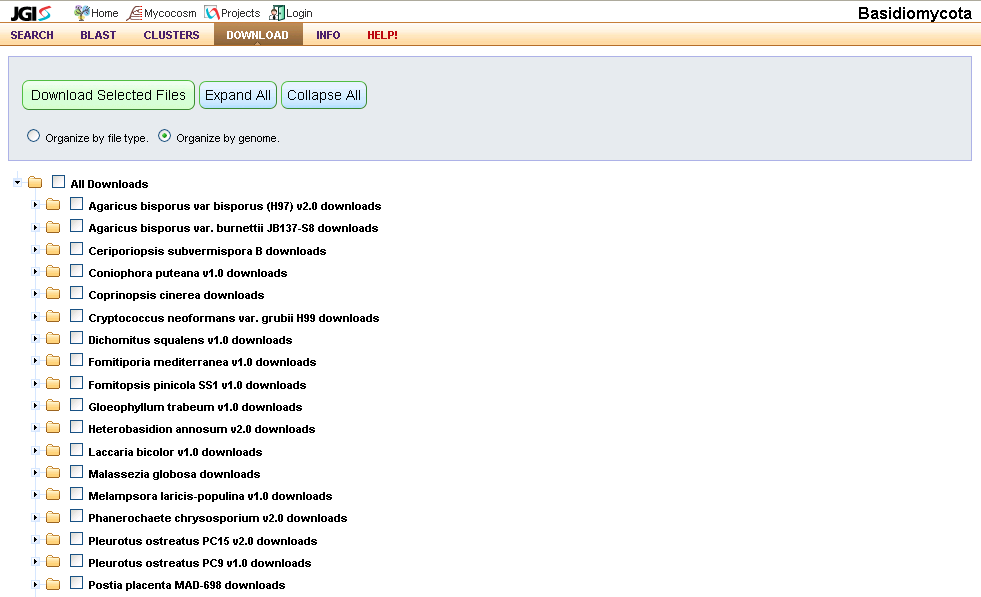 Given the ever-expanding number of genomes sequenced by the JGI and around the world, scientists are increasingly shifting their focus from the investigation of single assemblies to the comparative analysis of the genomes of families of related organisms. To support this shift, we have introduced the notion of a JGI Genome Portal for an Organism Group. The organism group portal will provide a hub from which to download data and use JGI analysis tools such as BLAST and Search in the context of a set of related genome assemblies, such as the set of all fungi, or all members of particular phlyum.
See here to learn more about genome groups.
Access to Metagenomics Data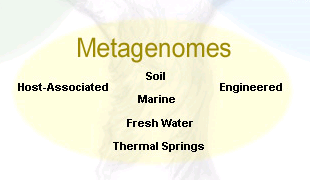 Metagenomics refers to the sequencing and study of organism communities within an ecological niche, rather than single organisms. The JGI has undertaken several exciting metagenomics projects in recent years and now you can access them through the portal! Just use the new Metagenomes branch of the Tree Of Life tool on the JGI Genome Portal front page.