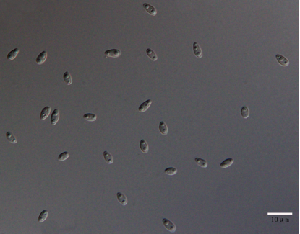 Ampelomyces quisqualis
, which belongs to the family Phaeosphaeriaceae, is an ecologically and economically important hyperparasite and distributed broadly across the globe.
A. quisqualis
can parasitize the hypha, conidiophore, conidium, and perithecium of powdery mildew fungi. With the process of hyperparsitism, the powdery mildew fungi will be destroyed and the plant will be renascent.
A. quisqualis
was found to parasitize the powdery mildew fungi of many genera in Erysiphaceae, but pathogenicity of
A. quisqualis
isolates from different sources is significant.
A. quisqualis
, host powdery mildew fungi, and host plant constitute a typical hyperparasite interaction system (host plant-fungus-hyperparasite), but the molecular hyperparasitism mechanism is not completely clear. Currently the control of powdery mildew fungi is confronted with a lack of resistant varieties and overuse of fungicide. For solving this question,
A. quisqualis
, the first biocontrol agent on powdery mildew fungi, is considered as the best substitute. The genome sequence of
Ampelomyces quisqualis
could reveal hyperparasite mechanisms, pathogenicity and specificity of
A. quisqualis
, and accelerate the development and application as a biocontrol agent.
This genome was sequenced as part of the 1000 Fungal Genomes Project.
Genome Reference(s)
Please cite the following publication(s) if you use the data from this genome in your research:
Haridas S, Albert R, Binder M, Bloem J, LaButti K, Salamov A, Andreopoulos B, Baker SE, Barry K, Bills G, Bluhm BH, Cannon C, Castanera R, Culley DE, Daum C, Ezra D, González JB, Henrissat B, Kuo A, Liang C, Lipzen A, Lutzoni F, Magnuson J, Mondo SJ, Nolan M, Ohm RA, Pangilinan J, Park HJ, Ramírez L, Alfaro M, Sun H, Tritt A, Yoshinaga Y, Zwiers LH, Turgeon BG, Goodwin SB, Spatafora JW, Crous PW, Grigoriev IV
101 Dothideomycetes genomes: A test case for predicting lifestyles and emergence of pathogens.
Stud Mycol. 2020 Jun;96():141-153. doi: 10.1016/j.simyco.2020.01.003