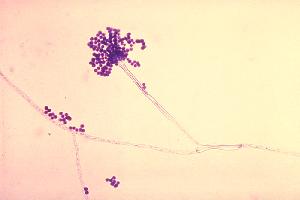 This genome was sequenced by J. Craig Venter Institute.
The genome sequence and gene predictions of Aspergillus fumigatus A1163 were not determined by the JGI, but were downloaded from ENSEMBL and have been published (Natalie D. Fedorova (2008), William C. Nierman (2005), Catherine M. Ronning (2005)). Please note that this copy of the genome is not maintained by the author and is therefore not automatically updated.
Aspergillus fumigatus is exceptional among microorganisms in being both a primary and opportunistic pathogen as well as a major allergen. Its conidia production is prolific, and so human respiratory tract exposure is almost constant. A. fumigatus is isolated from human habitats and vegetable compost heaps. In immunocompromised individuals, the incidence of invasive infection can be as high as 50% and the mortality rate is often about 50%. The interaction of A. fumigatus and other airborne fungi with the immune system is increasingly linked to severe asthma and sinusitis. Although the burden of invasive disease caused by A. fumigatus is substantial, the basic biology of the organism is mostly obscure.
Genome Reference(s)
Please cite the following publication(s) if you use the data from this genome in your research:
Fedorova ND, Khaldi N, Joardar VS, Maiti R, Amedeo P, Anderson MJ, Crabtree J, Silva JC, Badger JH, Albarraq A, Angiuoli S, Bussey H, Bowyer P, Cotty PJ, Dyer PS, Egan A, Galens K, Fraser-Liggett CM, Haas BJ, Inman JM, Kent R, Lemieux S, Malavazi I, Orvis J, Roemer T, Ronning CM, Sundaram JP, Sutton G, Turner G, Venter JC, White OR, Whitty BR, Youngman P, Wolfe KH, Goldman GH, Wortman JR, Jiang B, Denning DW, Nierman WC
Genomic islands in the pathogenic filamentous fungus Aspergillus fumigatus.
PLoS Genet. 2008 Apr 11;4(4):e1000046. doi: 10.1371/journal.pgen.1000046
Nierman WC, Pain A, Anderson MJ, Wortman JR, Kim HS, Arroyo J, Berriman M, Abe K, Archer DB, Bermejo C, Bennett J, Bowyer P, Chen D, Collins M, Coulsen R, Davies R, Dyer PS, Farman M, Fedorova N, Fedorova N, Feldblyum TV, Fischer R, Fosker N, Fraser A, García JL, García MJ, Goble A, Goldman GH, Gomi K, Griffith-Jones S, Gwilliam R, Haas B, Haas H, Harris D, Horiuchi H, Huang J, Humphray S, Jiménez J, Keller N, Khouri H, Kitamoto K, Kobayashi T, Konzack S, Kulkarni R, Kumagai T, Lafon A, Latgé JP, Li W, Lord A, Lu C, Majoros WH, May GS, Miller BL, Mohamoud Y, Molina M, Monod M, Mouyna I, Mulligan S, Murphy L, O'Neil S, Paulsen I, Peñalva MA, Pertea M, Price C, Pritchard BL, Quail MA, Rabbinowitsch E, Rawlins N, Rajandream MA, Reichard U, Renauld H, Robson GD, Rodriguez de Córdoba S, Rodríguez-Peña JM, Ronning CM, Rutter S, Salzberg SL, Sanchez M, Sánchez-Ferrero JC, Saunders D, Seeger K, Squares R, Squares S, Takeuchi M, Tekaia F, Turner G, Vazquez de Aldana CR, Weidman J, White O, Woodward J, Yu JH, Fraser C, Galagan JE, Asai K, Machida M, Hall N, Barrell B, Denning DW
Genomic sequence of the pathogenic and allergenic filamentous fungus Aspergillus fumigatus.
Nature. 2005 Dec 22;438(7071):1151-6. doi: 10.1038/nature04332
Ronning CM, Fedorova ND, Bowyer P, Coulson R, Goldman G, Kim HS, Turner G, Wortman JR, Yu J, Anderson MJ, Denning DW, Nierman WC
Genomics of Aspergillus fumigatus.
Rev Iberoam Micol. 2005 Dec;22(4):223-8. doi: 10.1016/s1130-1406(05)70047-4
Joardar V, Abrams NF, Hostetler J, Paukstelis PJ, Pakala S, Pakala SB, Zafar N, Abolude OO, Payne G, Andrianopoulos A, Denning DW, Nierman WC
Sequencing of mitochondrial genomes of nine Aspergillus and Penicillium species identifies mobile introns and accessory genes as main sources of genome size variability.
BMC Genomics. 2012 Dec 12;13():698. doi: 10.1186/1471-2164-13-698