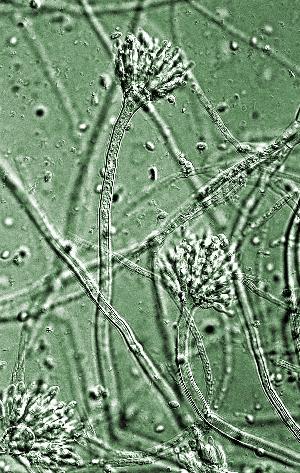 Aspergillus zonatus exhibits a fascinating concentric zonal growth form and is derived from tropical soils. It produces some unusual metabolites which overlap with the penicillia. Critically, it is placed phylogenetically as a very basal Aspergillus species, located on a branch between the main groups of Aspergillus species and more distantly related Penicillium and other Eurotiomycete species. Therefore, analysis of genome arrangement and gene content should provide insights into the ancestral organization of the Aspergillus genome and enzyme compliment thereof, allowing an understanding of how species have since become specialized for certain substrates and lifestyles.
Genome Reference(s)
Please cite the following publication(s) if you use the data from this genome in your research:
de Vries RP, Riley R, Wiebenga A, Aguilar-Osorio G, Amillis S, Uchima CA, Anderluh G, Asadollahi M, Askin M, Barry K, Battaglia E, Bayram O, Benocci T, Braus-Stromeyer SA, Caldana C, Canovas D, Cerqueira GC, Chen F, Chen W, Choi C, Clum A, Dos Santos RA, Damasio AR, Diallinas G, Emri T, Fekete E, Flipphi M, Freyberg S, Gallo A, Gournas C, Habgood R, Hainaut M, Harispe ML, Henrissat B, Hilden KS, Hope R, Hossain A, Karabika E, Karaffa L, Karanyi Z, Krasevec N, Kuo A, Kusch H, LaButti K, Lagendijk EL, Lapidus A, Levasseur A, Lindquist E, Lipzen A, Logrieco AF, MacCabe A, Makela MR, Malavazi I, Melin P, Meyer V, Mielnichuk N, Miskei M, Molnar AP, Mule G, Ngan CY, Orejas M, Orosz E, Ouedraogo JP, Overkamp KM, Park HS, Perrone G, Piumi F, Punt PJ, Ram AF, Ramon A, Rauscher S, Record E, Riano-Pachon DM, Robert V, Rohrig J, Ruller R, Salamov A, Salih NS, Samson RA, Sandor E, Sanguinetti M, Schutze T, Sepcic K, Shelest E, Sherlock G, Sophianopoulou V, Squina FM, Sun H, Susca A, Todd RB, Tsang A, Unkles SE, van de Wiele N, van Rossen-Uffink D, Oliveira JV, Vesth TC, Visser J, Yu JH, Zhou M, Andersen MR, Archer DB, Baker SE, Benoit I, Brakhage AA, Braus GH, Fischer R, Frisvad JC, Goldman GH, Houbraken J, Oakley B, Pocsi I, Scazzocchio C, Seiboth B, vanKuyk PA, Wortman J, Dyer PS, Grigoriev IV
Comparative genomics reveals high biological diversity and specific adaptations in the industrially and medically important fungal genus Aspergillus.
Genome Biol. 2017 Feb 14;18(1):28. doi: 10.1186/s13059-017-1151-0.