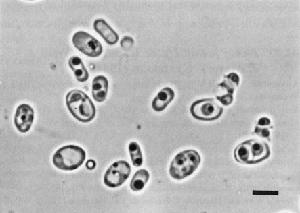 Babjeviella inositovora was previously classified in the genus Pichia, but gene sequence analysis shows that it is an isolated species unrelated to Pichia, hence its transfer to the new genus Babjeviella. From multigene analysis, the species appears basal to the large clade that includes the genera Scheffersomyces, Lodderomyces, Metschnikowia, and others. B. inositovora grows on a wide range of carbon sources and is one of the few ascomycetous yeasts that can utilize myo-inositol as a sole source of carbon. Strains of the species are known to harbor double-stranded DNA plasmids that confer killer activity against Saccharomyces cerevisiae, Cephaloascus albidus and Citeromyces matritensis. B. inositovora does not appear common in nature, but has been isolated in the northwestern U.S. and in Russia.
Genome Reference(s)
Please cite the following publication(s) if you use the data from this genome in your research:
Riley R, Haridas S, Wolfe KH, Lopes MR, Hittinger CT, Göker M, Salamov AA, Wisecaver JH, Long TM, Calvey CH, Aerts AL, Barry KW, Choi C, Clum A, Coughlan AY, Deshpande S, Douglass AP, Hanson SJ, Klenk HP, LaButti KM, Lapidus A, Lindquist EA, Lipzen AM, Meier-Kolthoff JP, Ohm RA, Otillar RP, Pangilinan JL, Peng Y, Rokas A, Rosa CA, Scheuner C, Sibirny AA, Slot JC, Stielow JB, Sun H, Kurtzman CP, Blackwell M, Grigoriev IV, Jeffries TW
Comparative genomics of biotechnologically important yeasts.
Proc Natl Acad Sci U S A. 2016 Aug 30;113(35):9882-7. doi: 10.1073/pnas.1603941113