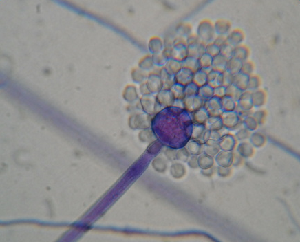 Backusella circina J.J. Ellis & Hesselt. (1969) is a typical ubiquitous Mucoralean fungus found in different natural habitats all over the planet. The characteristic morphological feature, which distinguishes Backusella, is a formation of two types of asexual spores: terminal, multispored, deliquescent-walled sporangia, and laterally formed persistent-walled sporangia that can be either uni- or multispored. Both spore types are formed simultaneously. Zygospores of this heterothallic fungus have opposed suspensors.
It is a thermophilic fungus, able to grow in a wide range of temperatures. It was found in soil, plant debris, and dung of various animals. Backusella circina is one of the common compost inhabitants involved in its degradation in earlier stages of composting. Some of Backusella circina strains were patented for secretive fermentation of lipids as several other zygomycetes.
Genome Reference(s)
Please cite the following publication(s) if you use the data from this genome in your research:
Amses KR, Simmons DR, Longcore JE, Mondo SJ, Seto K, Jerônimo GH, Bonds AE, Quandt CA, Davis WJ, Chang Y, Federici BA, Kuo A, LaButti K, Pangilinan J, Andreopoulos W, Tritt A, Riley R, Hundley H, Johnson J, Lipzen A, Barry K, Lang BF, Cuomo CA, Buchler NE, Grigoriev IV, Spatafora JW, Stajich JE, James TY
Diploid-dominant life cycles characterize the early evolution of Fungi.
Proc Natl Acad Sci U S A. 2022 Sep 6;119(36):e2116841119. doi: 10.1073/pnas.2116841119