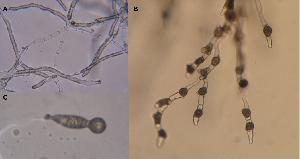 Basidiobolus meristosporus Drechsler 1955 (synonyms B. ranarum, B. heterosporus, B. haptosporus) can be easy isolated from soil or leaf litter; also from dung of frogs or lizards. It also might be found in mites or insects, although not known to be pathogenic to all aforementioned animals. It can be easily cultured on common nutritious media under laboratory conditions. Basidiobolus builds leathery, glabrous and radially folded colonies, usually yellowish- or creamy-grey. It often forms small satellite colonies around inoculum like sparkles due to ballistoconidia ejected from the surface of the central colony.

Hyphae are often septated, wide, 7-20um in diameter, many cell compartments are without cytoplasm. Zygospores are numerous, built between adjacent cells, 25-50um in diameter, with dark round thick walls and beak-like appendages. Asexual spores are unicellular, of two types: round forcibly discharged primary ballistoconidia formed on the top of swollen conidiophores and passively released clavate secondary conidia on non-swollen conidiophores. Ability to produce conidia is usually lost in culture with time.

Basidiobolus has several unique features, which distinguish it from the rest of fungal world. It has possibly the largest nuclei among all known fungi. The structure of its mitosis associated organelle is similar to the centrioles of all flagellated eukaryotes. Although it is considered to be basal to Entomophthoromycota and also has forcibly discharged conidia, the "rocket" mechanism of the spore release has not been found in other Entomophthoraleans.

Basidiobolus can cause infection in humans, known as basidiobolomycoses. Infections can be subcutaneous or more rarely gastrointestinal. Very few clinical cases have been reported, mostly from tropical and subtropical regions.
Genome Reference(s)
Please cite the following publication(s) if you use the data from this genome in your research:
Mondo SJ, Dannebaum RO, Kuo RC, Louie KB, Bewick AJ, LaButti K, Haridas S, Kuo A, Salamov A, Ahrendt SR, Lau R, Bowen BP, Lipzen A, Sullivan W, Andreopoulos BB, Clum A, Lindquist E, Daum C, Northen TR, Kunde-Ramamoorthy G, Schmitz RJ, Gryganskyi A, Culley D, Magnuson J, James TY, O'Malley MA, Stajich JE, Spatafora JW, Visel A, Grigoriev IV
Widespread adenine N6-methylation of active genes in fungi.
Nat Genet. 2017 Jun;49(6):964-968. doi: 10.1038/ng.3859