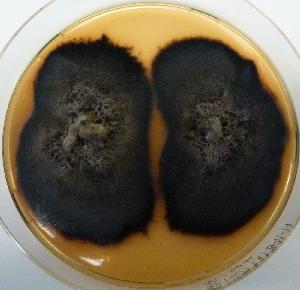 Byssothecium circinans Fuckel (Massarinaceae) is thought to be saprotrophic or a weak parasite on woody substrates, including the important forage crop alfalfa (Medicago sativa). The bases of the ascomata grow sunken in the substrate and their peridia are pseudoparenchymatous. Sporulating ascoma are visible by plumes of ascospores. The genome of Byssothecium circinans will be one of the first projects to address interactions between legumes and fungi that are potentially opportunistic.
Genome Reference(s)
Please cite the following publication(s) if you use the data from this genome in your research:
Haridas S, Albert R, Binder M, Bloem J, LaButti K, Salamov A, Andreopoulos B, Baker SE, Barry K, Bills G, Bluhm BH, Cannon C, Castanera R, Culley DE, Daum C, Ezra D, González JB, Henrissat B, Kuo A, Liang C, Lipzen A, Lutzoni F, Magnuson J, Mondo SJ, Nolan M, Ohm RA, Pangilinan J, Park HJ, Ramírez L, Alfaro M, Sun H, Tritt A, Yoshinaga Y, Zwiers LH, Turgeon BG, Goodwin SB, Spatafora JW, Crous PW, Grigoriev IV
101 Dothideomycetes genomes: A test case for predicting lifestyles and emergence of pathogens.
Stud Mycol. 2020 Jun;96():141-153. doi: 10.1016/j.simyco.2020.01.003