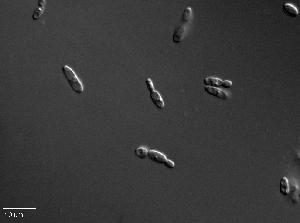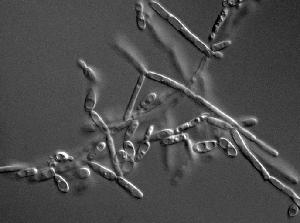 Candida tanzawaensis is representative of a large and mostly unstudied group of yeasts that are often associated wtih insects, particularly fungus-feeding beetles. One of the best sources of microbial enzymes that can degrade polysaccharides and other components of mushrooms is the microbes growing on basidiomata, the fruiting bodies of basidiomyctes. The basidiomata of shelf fungi and mushrooms are comprised of highly complex polysaccharides that are difficult to degrade enzymatically, so the genome of this yeast could contain enzymes capable of degrading unusual polysaccharides as well as other substances. The phylogenetic classification of C. tanzawaensis has been studied by rRNA gene sequencing (1, 2) and a number of related yeasts have been identified (2, 3).
Genome Reference(s)
Please cite the following publication(s) if you use the data from this genome in your research:
Riley R, Haridas S, Wolfe KH, Lopes MR, Hittinger CT, Göker M, Salamov AA, Wisecaver JH, Long TM, Calvey CH, Aerts AL, Barry KW, Choi C, Clum A, Coughlan AY, Deshpande S, Douglass AP, Hanson SJ, Klenk HP, LaButti KM, Lapidus A, Lindquist EA, Lipzen AM, Meier-Kolthoff JP, Ohm RA, Otillar RP, Pangilinan JL, Peng Y, Rokas A, Rosa CA, Scheuner C, Sibirny AA, Slot JC, Stielow JB, Sun H, Kurtzman CP, Blackwell M, Grigoriev IV, Jeffries TW
Comparative genomics of biotechnologically important yeasts.
Proc Natl Acad Sci U S A. 2016 Aug 30;113(35):9882-7. doi: 10.1073/pnas.1603941113
References
Kurtzman CP & Robnett CJ (1998) Identification and phylogeny of ascomycetous yeasts from analysis of nuclear large subunit (26S) ribosomal DNA partial sequences. Antonie van Leeuwenhoek 73:331-371.
Suh SO, McHugh JV, & Blackwell M (2004) Expansion of the Candida tanzawaensis yeast clade: 16 novel Candida species from basidiocarp-feeding beetles. International Journal of Systematic and Evolutionary Microbiology 54:2409-2429.
Kurtzman CP (2001) Six new anamorphic ascomycetous yeasts near Candida tanzawaensis. Fems Yeast Research 1(3):177-185.