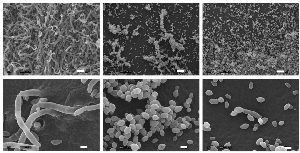 Clavispora lusitaniae is a member of the Saccharomycotina sequenced by Butler et al., 2014. It can be a human pathogen, and has developed resistance to Amphotericin-B, a common anti-fungal to treat fungal infections (Krcmery and Barnes, 2002). C. lusitaniae belongs to the CUG clade, which substitute serine for leucine at CUG codons. C. lusitaniae was imported into mycocosm for comparative purposes.
Genome Reference(s)
Please cite the following publication(s) if you use the data from this genome in your research:
Butler G, Rasmussen MD, Lin MF, Santos MA, Sakthikumar S, Munro CA, Rheinbay E, Grabherr M, Forche A, Reedy JL, Agrafioti I, Arnaud MB, Bates S, Brown AJ, Brunke S, Costanzo MC, Fitzpatrick DA, de Groot PW, Harris D, Hoyer LL, Hube B, Klis FM, Kodira C, Lennard N, Logue ME, Martin R, Neiman AM, Nikolaou E, Quail MA, Quinn J, Santos MC, Schmitzberger FF, Sherlock G, Shah P, Silverstein KA, Skrzypek MS, Soll D, Staggs R, Stansfield I, Stumpf MP, Sudbery PE, Srikantha T, Zeng Q, Berman J, Berriman M, Heitman J, Gow NA, Lorenz MC, Birren BW, Kellis M, Cuomo CA
Evolution of pathogenicity and sexual reproduction in eight Candida genomes.
Nature. 2009 Jun 4;459(7247):657-62. doi: 10.1038/nature08064
Additional references:
Krcmery, V., and A. J. Barnes. "Non-albicans Candida spp. causing fungaemia: pathogenicity and antifungal resistance." Journal of Hospital Infection 50.4 (2002): 243-260.