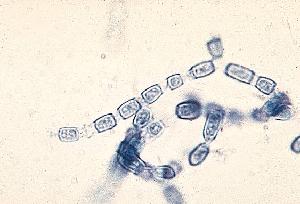 This genome was sequenced by the Broad Institute.

Coccidioides immitis is a soil fungus which causes coccidioidomycosis, also known as "valley fever," a serious and sometimes fatal disease in otherwise healthy people. C. immitis has been placed on the NIAID group II list of priority emerging and re-emerging pathogens. Coccidioides species have also become models for studying the evolutionary biology of pathogenic fungi.
Genome Reference(s)
Please cite the following publication(s) if you use the data from this genome in your research:
Sharpton TJ, Stajich JE, Rounsley SD, Gardner MJ, Wortman JR, Jordar VS, Maiti R, Kodira CD, Neafsey DE, Zeng Q, Hung CY, McMahan C, Muszewska A, Grynberg M, Mandel MA, Kellner EM, Barker BM, Galgiani JN, Orbach MJ, Kirkland TN, Cole GT, Henn MR, Birren BW, Taylor JW
Comparative genomic analyses of the human fungal pathogens Coccidioides and their relatives.
Genome Res. 2009 Oct;19(10):1722-31. doi: 10.1101/gr.087551.108