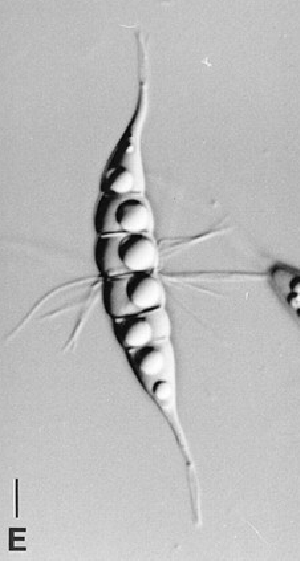 Corollospora maritima CBS 119819 was sequenced as part of the1000 Fungal Genomes Project
Marine fungi have evolved independently from terrestrial lineages on multiple occasions. There are at least four such transitions within Sordariomycetes. This project seeks to elucidate what are the common and unique solutions fungi have evolved to handle salt stress/osmoregulation within Sordariomycetes. By comparing the genome of terrestrial Microascus trigonosporus with the closely related marine Corollospora maritima, we hope to learn about land-to-sea transitions in fungal evolution.
Reference
Spatafora, Volkmann-Kohlmeyer and Komlmeyer, "Independent terrestrial origins of the Halosphaeriales (marine Ascomycota)", 1998, Amer J Bot 85 no. 11 1569-1580.