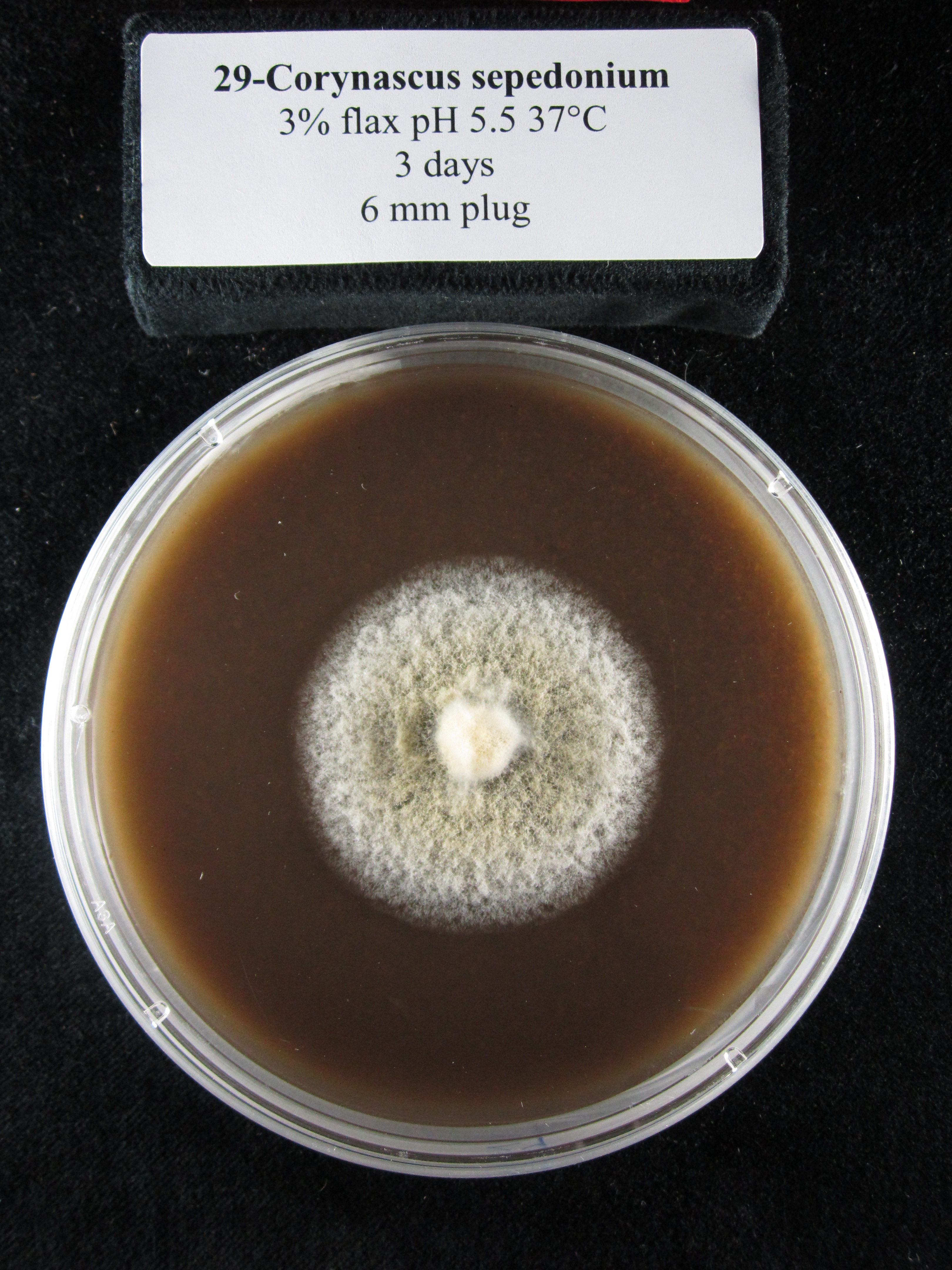 The genome sequence and gene prediction of Corynascus sepedonium ATCC 9787 have not been determined by the Joint Genome Institute (JGI), but were downloaded from CSFG on July 31, 2022. In order to allow comparative analyses with other fungal genomes sequenced by the JGI, a copy of this genome is incorporated into Mycocosm. Please note that this copy of the genome is not automatically updated. JGI tools were used to automatically annotate predicted proteins.
Corynascus sepedonium (Myceliophthora sepedonium) basionym Thielavia sepedonium is a fungus belonging to the Chaetomiaceae family. Myceliophthora sepedonium is considered a thermotolerant with a growth temperature optimum at 34 ºC and ability to grow at 45 ºC (1). The ability to produce enzymes involved in plant cell wall degradation has been reported (2,3). The genome of M. sepedonium will provide insight into the Chaetomiaceae family and thermophily.
Note: If you intend to publish any articles including Corynascus sepedonium ATCC 9787 genomic data, please contact Adrian Tsang for permission prior to publication: [email protected]

Reference:
1. van den Brink J, Samson RA, Hagen F, Boekhout T, de Vries RP. Phylogeny of the industrial relevant, thermophilic genera Myceliophthora and Corynascus. Fungal Diversity, 2012, 52, 197–207
2. Dilokpimol, A., Verkerk, B., Li, X., Bellemare, A., Lavallee, M., Frommhagen, M., Underlin, E.N., Kabel, M.A., Powlowski, J., Tsang, A. and de Vries, R.P. (2022), Screening of novel fungal Carbohydrate Esterase family 1 enzymes identifies three novel dual feruloyl/acetyl xylan esterases. FEBS Lett; 596(15):1932-1943.
3. Dong L, Yu D, Lin X, Wang B, Pan L. Improving expression of thermostable trehalase from Myceliophthora sepedonium in Aspergillus niger mediated by the CRISPR/Cas9 tool and its purification, characterization. Protein Expression and Purification. 2020 Jan;165:105482.