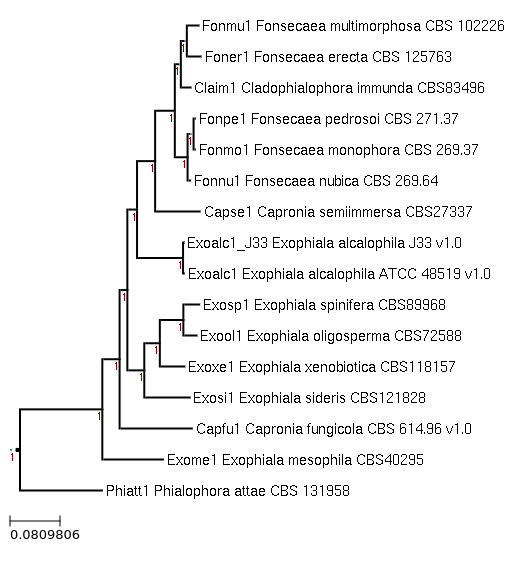 The genome sequence and gene models of Fonsecaea erecta CBS 125763 were not determined by the Joint Genome Institute (JGI), but were downloaded from Ensembl Fungi on April 11, 2020. Please note that this copy of the genome is not maintained by Ensembl and is therefore not automatically updated. The JGI Annotation Pipeline was used to add additional functional annotation to the author's chromosomes and proteins.
Genome Reference(s)
Please cite the following publication(s) if you use the data from this genome in your research:
Vicente VA, Weiss VA, Bombassaro A, Moreno LF, Costa FF, Raittz RT, Leão AC, Gomes RR, Bocca AL, Fornari G, de Castro RJA, Sun J, Faoro H, Tadra-Sfeir MZ, Baura V, Balsanelli E, Almeida SR, Dos Santos SS, Teixeira MM, Soares Felipe MS, do Nascimento MMF, Pedrosa FO, Steffens MB, Attili-Angelis D, Najafzadeh MJ, Queiroz-Telles F, Souza EM, De Hoog S
Comparative Genomics of Sibling Species of Fonsecaea Associated with Human Chromoblastomycosis.
Front Microbiol. 2017;8():1924. doi: 10.3389/fmicb.2017.01924