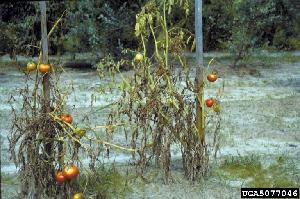 The genome of Fusarium oxysporum f. sp. lycopersici strain 4287 (race 2, VCG 0030) was sequenced by the Broad Institute and the text below is copied from there. In order to allow comparative analyses with other fungi, a copy of this genome was imported into MycoCosm.

Fungi of the Fusarium oxysporum species complex (FOSC) are ubiquitous soil and plant inhabiting microbes. As plant pathogens, FOSC strains can cause wilt and root rot diseases on over 120 plant species (Michielse and Rep, 2009). Many FOSC strains can infect plant roots without apparent effect or can even protect plants from subsequent infection (Alabouvette et al., 2009). FOSC isolates also have been identified as human pathogens causing localized or disseminated infections that may become life-threatening in neutropenic individuals (O'Donnell et al., 2004).

The first genome made available in 2007 was from a tomato wilt strain FOL 4287 (NRRL 34936) which was used for comparative analysis with the genomes of F. graminearum and F. verticillioides. Results of this comparison led to the discovery of mobile supernumerary chromosomes in this strain of F. oxysporum f. sp. lycopersici (race 2 - VCG 0030) containing genes required for host specific infection and disease (Ma et al., 2010).
References :
Alabouvette,C., Olivain,C., Migheli,Q., and Steinberg,C. (2009) Microbiological control of soil-borne phytopathogenic fungi with special emphasis on wilt-inducing Fusarium oxysporum. New Phytologist 184: 529-544.
Ma,L.J., van der Does,H.C., Borkovich,K.A., Coleman,J.J., Daboussi,M.J., Di Pietro,A. et al. (2010) Comparative genomics reveals mobile pathogenicity chromosomes in Fusarium. Nature 464: 367-373.
O'Donnell,K., Sutton,D.A., Rinaldi,M.G., Magnon,K.C., Cox,P.A., Revankar,S.G. et al. (2004) Genetic diversity of human pathogenic members of the Fusarium oxysporum complex inferred from multilocus DNA sequence data and amplified fragment length polymorphism analyses: Evidence for the recent dispersion of a geographically widespread clonal lineage and nosocomial origin. Journal of Clinical Microbiology 42: 5109-5120.
Genome Reference(s)
Please cite the following publication(s) if you use the data from this genome in your research:
Ma LJ, van der Does HC, Borkovich KA, Coleman JJ, Daboussi MJ, Di Pietro A, Dufresne M, Freitag M, Grabherr M, Henrissat B, Houterman PM, Kang S, Shim WB, Woloshuk C, Xie X, Xu JR, Antoniw J, Baker SE, Bluhm BH, Breakspear A, Brown DW, Butchko RA, Chapman S, Coulson R, Coutinho PM, Danchin EG, Diener A, Gale LR, Gardiner DM, Goff S, Hammond-Kosack KE, Hilburn K, Hua-Van A, Jonkers W, Kazan K, Kodira CD, Koehrsen M, Kumar L, Lee YH, Li L, Manners JM, Miranda-Saavedra D, Mukherjee M, Park G, Park J, Park SY, Proctor RH, Regev A, Ruiz-Roldan MC, Sain D, Sakthikumar S, Sykes S, Schwartz DC, Turgeon BG, Wapinski I, Yoder O, Young S, Zeng Q, Zhou S, Galagan J, Cuomo CA, Kistler HC, Rep M
Comparative genomics reveals mobile pathogenicity chromosomes in Fusarium.
Nature. 2010 Mar 18;464(7287):367-73. doi: 10.1038/nature08850