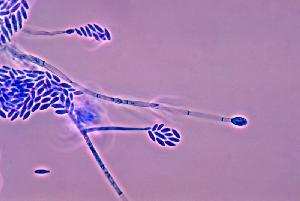 The genome of Fusarium verticillioides was sequenced by the Broad Institute and the text below is copied from there. In order to allow comparative analyses with other fungi, a copy of this genome was imported into MycoCosm.
Fusarium verticillioides is the causal agent of kernel and ear rot of maize. This destructive disease occurs virtually everywhere that maize is grown worldwide. In years with high temperatures, drought, and heavy insect damage, the disease can significantly diminish crop quality.
The most significant economic impact of F. verticillioides is its ability to produce fumonisin mycotoxins. Various diseases caused by fumonisins have been reported in animals, such as liver and kidney cancer as well as neural tube defects in rodents (Howard et al. 2001, Seefelder et al. 2003), leukoencephalomalacia in equines (Wilson et al. 1992), and pulmonary edema in pigs (Kriek et al. 1981). More importantly, epidemiological correlations have been established between human esophageal cancer and the consumption of fumonisin-contaminated maize in some regions of the world where maize is a dietary staple. In addition, fumonisins have been reported to be a potential cause of neural tube defects in humans (Seefelder et al. 2003). Due to potential health risks, guidelines for fumonisin levels in food have been established by the US FDA and by other government agencies worldwide (FDA/CFSAN, 2001). In 2003, fumonisin B1, the fumonisin produced most abundantly by F. verticillioides, was added to the California Proposition 65 List of Substances Known to Cause Cancer.
Sequenced strain information: Strain 7600 (FRC M3125=NRRL 20956), which has been used extensively in molecular and pathological studies, was selected for the genome project. This strain is available at FGSC, NCAUR-ARS-USDA and the Fusarium Research Center at Penn State. The genome size is estimated to be 46 Mb with 12 chromosomes.

References
Howard, P. C., R. M. Eppley, M. E. Stack, A. Warbritton, K. A. Voss, R. J. Lorentzen, R. M. Kovach, and T. J. Bucci. 2001. Fumonisin B1 carcinogenicity in a two-year feeding study using F344 rats and B6C3F1 mice. Environmental Health Perspectives 109 S2: 277-282.
Kriek, N. P. J., T. S. Kellerman, and W. F. O. Marasas. 1981. A comparative study of the toxicity of Fusarium verticillioides (= F. moniliforme) to horses, primates, pigs, sheep and rats. Ondersterpoort Journal of Veterinary Research 48: 129-131.
Seefelder, W., H.-U. Humpf, G. Schwerdt, R. Freudinger, and M. Gekle. 2003. Induction of apoptosis in cultured human proximal tubule cells by fumonisins and fumonisin metabolites. Toxicol. Appl. Pharmacol. 192: 146-153.
Wilson, T. M., P. F. Ross, D. L. Owens, L. G. Rice, S. A. Green, S. J. Jenkins, and H. A. Nelson. 1992. Experimental reproduction of ELEM - a study to determine the minimum toxic dose in ponies. Mycopathologia: 115-120.
Genome Reference(s)
Please cite the following publication(s) if you use the data from this genome in your research:
Ma LJ, van der Does HC, Borkovich KA, Coleman JJ, Daboussi MJ, Di Pietro A, Dufresne M, Freitag M, Grabherr M, Henrissat B, Houterman PM, Kang S, Shim WB, Woloshuk C, Xie X, Xu JR, Antoniw J, Baker SE, Bluhm BH, Breakspear A, Brown DW, Butchko RA, Chapman S, Coulson R, Coutinho PM, Danchin EG, Diener A, Gale LR, Gardiner DM, Goff S, Hammond-Kosack KE, Hilburn K, Hua-Van A, Jonkers W, Kazan K, Kodira CD, Koehrsen M, Kumar L, Lee YH, Li L, Manners JM, Miranda-Saavedra D, Mukherjee M, Park G, Park J, Park SY, Proctor RH, Regev A, Ruiz-Roldan MC, Sain D, Sakthikumar S, Sykes S, Schwartz DC, Turgeon BG, Wapinski I, Yoder O, Young S, Zeng Q, Zhou S, Galagan J, Cuomo CA, Kistler HC, Rep M
Comparative genomics reveals mobile pathogenicity chromosomes in Fusarium.
Nature. 2010 Mar 18;464(7287):367-73. doi: 10.1038/nature08850
Cuomo CA, Güldener U, Xu JR, Trail F, Turgeon BG, Di Pietro A, Walton JD, Ma LJ, Baker SE, Rep M, Adam G, Antoniw J, Baldwin T, Calvo S, Chang YL, Decaprio D, Gale LR, Gnerre S, Goswami RS, Hammond-Kosack K, Harris LJ, Hilburn K, Kennell JC, Kroken S, Magnuson JK, Mannhaupt G, Mauceli E, Mewes HW, Mitterbauer R, Muehlbauer G, Münsterkötter M, Nelson D, O'donnell K, Ouellet T, Qi W, Quesneville H, Roncero MI, Seong KY, Tetko IV, Urban M, Waalwijk C, Ward TJ, Yao J, Birren BW, Kistler HC
The Fusarium graminearum genome reveals a link between localized polymorphism and pathogen specialization.
Science. 2007 Sep 7;317(5843):1400-2. doi: 10.1126/science.1143708