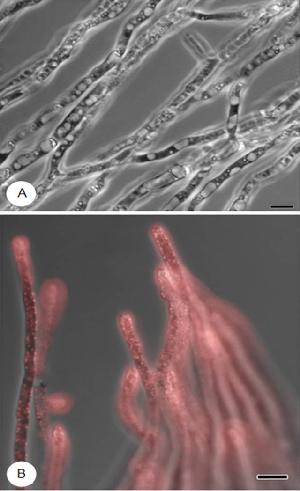 Gonapodya prolifera is an aquatic fungus that forms a threadlike, hyphal body. As in many other fungi, the hyphae are subdivided by cross walls. However, the body form of G. prolifera evolved independently from hyphae of other, more familiar fungi and G. prolifera's true relatives are among minute, unicellular, aquatic species. Gonapodya prolifera is as distantly related to bread molds or mushrooms as humans are to jelly fish.
Gonapodya prolifera belongs to Monoblepharidomycetes, a small class of fungi with a dauntingly long name. Like most other water molds in kingdom Fungi, asexual reproduction in the Monoblepharidomycetes involves development of zoospores inside of a sack-like sporangium. Each zoospore has a single, posterior flagellum and after escaping from the sporangium, it swims until it finds another source of food, settles and transforms into a sprawling hyphal body. At the microscopic level, sexual reproduction in the Monoblepharidomycetes is familiar to us but highly unusual for Fungi, involving a non-motile egg that is fertilized by a swimming sperm.
In nature, Gonapodya prolifera colonizes plant material such as twigs or decaying fruit, in oxygen-depleted water. Because of its vast genetic distance from other fungi, and because it breaks down plant material, the genome of Gonapodya prolifera almost certainly includes genes for novel enzymes. By analyzing the secreted proteins encoded in Gonapodya prolifera's genome, it may be possible to find enzymes with useful applications in biotechnology, such as the production of biofuels.
Genome Reference(s)
Please cite the following publication(s) if you use the data from this genome in your research:
Chang Y, Wang S, Sekimoto S, Aerts AL, Choi C, Clum A, LaButti KM, Lindquist EA, Yee Ngan C, Ohm RA, Salamov AA, Grigoriev IV, Spatafora JW, Berbee ML
Phylogenomic Analyses Indicate that Early Fungi Evolved Digesting Cell Walls of Algal Ancestors of Land Plants.
Genome Biol Evol. 2015 May 14;7(6):1590-601. doi: 10.1093/gbe/evv090