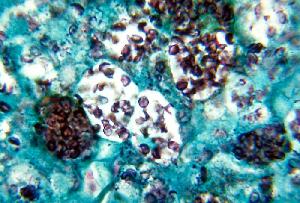 This genome was sequenced by the Broad Institute.

Histoplasma capsulatum is the most common cause of fungal respiratory infections (histoplasmosis) in the world. While most infections are mild, 10% of cases result in life-threatening complications such as inflammation of the pericardium and fibrosis of major blood vessels (Durkin, Kohler et al., 2001). In addition, some African H. capsulatum isolates cause a distinct disease, African histoplasmosis, that is characterized by cutaneous and subcutaneous lesions in the bone (Jones and Goodwin., 1981). Once infected, a latent infection may be reactivated. Histoplasma poses a particular threat to the elderly and to immunocompromised patients (Rachid, Rezende et al. 2003).
Genome Reference(s)
Please cite the following publication(s) if you use the data from this genome in your research:
Sharpton TJ, Stajich JE, Rounsley SD, Gardner MJ, Wortman JR, Jordar VS, Maiti R, Kodira CD, Neafsey DE, Zeng Q, Hung CY, McMahan C, Muszewska A, Grynberg M, Mandel MA, Kellner EM, Barker BM, Galgiani JN, Orbach MJ, Kirkland TN, Cole GT, Henn MR, Birren BW, Taylor JW
Comparative genomic analyses of the human fungal pathogens Coccidioides and their relatives.
Genome Res. 2009 Oct;19(10):1722-31. doi: 10.1101/gr.087551.108