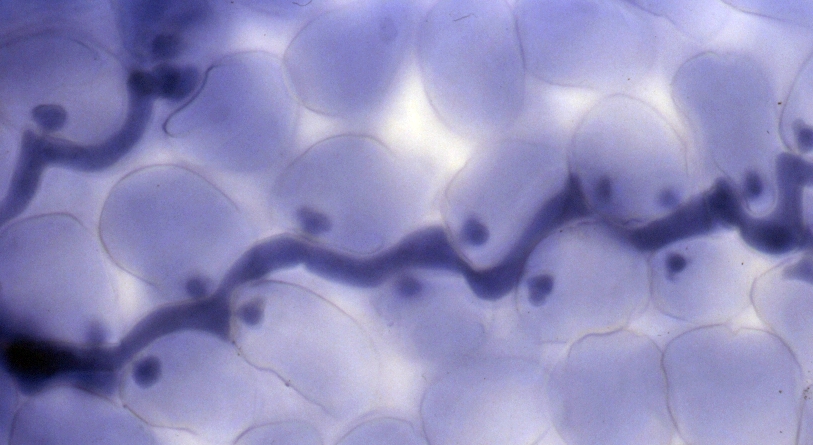 The Hyaloperonospora arabidopsidis Emoy2 genome sequence and gene models were not determined by the Joint Genome Institute (JGI), but were downloaded from ENSEMBL on Dec 1, 2020. In order to ensure this genome is comparable to those sequenced by the JGI, we applied filters to remove if present: 1) transposable elements, 2) pseudogenes, 3) alternative transcripts and overlapping models, 4) alleles on secondary scaffolds and 5) unsupported short models. This resulted in the removal of 5183 models from H. arabidopsidis and the generation of the FilteredModels3 gene track. All published models are available in the ExternalModels track. Please note that this copy of the genome is not maintained by ENSEMBL and is therefore not automatically updated. In order to allow comparative analyses with other fungal and algal genomes sequenced by the JGI, a copy of this genome is incorporated into PhycoCosm. The JGI Annotation Pipeline was used to add functional annotation to this genome.
Hyaloperonospora arabidopsidis is a species from the family Peronosporaceae in the class Oomycetes and belongs to the kingdom Stramenopila, which includes brown algae and diatoms. It is an obligate parasite and the causal agent of the downy mildew of the plant model organism Arabidopsis thaliana. Although they share morphological and ecological similarities with fungi, they evolved independently to colonize plants. They belong to a group of "downy mildew" pathogens, comprising more than 800 species that cause disease on hundreds of plant species. While H. arabidopsidis has for a long time been subsumed under Peronospora parasitica (now Hyaloperonospora parasitica), recent studies have shown that H. parasitica is restricted to Capsella bursa-pastoris as a host plant. Like the other Hyaloperonospora species, H. arabidopsidis is highly specialized to Arabidopsis thaliana.
Genome Reference(s)
Please cite the following publication(s) if you use the data from this genome in your research:
Baxter L, Tripathy S, Ishaque N, Boot N, Cabral A, Kemen E, Thines M, Ah-Fong A, Anderson R, Badejoko W, Bittner-Eddy P, Boore JL, Chibucos MC, Coates M, Dehal P, Delehaunty K, Dong S, Downton P, Dumas B, Fabro G, Fronick C, Fuerstenberg SI, Fulton L, Gaulin E, Govers F, Hughes L, Humphray S, Jiang RHY, Judelson H, Kamoun S, Kyung K, Meijer H, Minx P, Morris P, Nelson J, Phuntumart V, Qutob D, Rehmany A, Rougon-Cardoso A, Ryden P, Torto-Alalibo T, Studholme D, Wang Y, Win J, Wood J, Clifton SW, Rogers J, Van den Ackerveken G, Jones JDG, McDowell JM, Beynon J, Tyler BM
Signatures of adaptation to obligate biotrophy in the Hyaloperonospora arabidopsidis genome.
Science. 2010 Dec 10;330(6010):1549-1551. doi: 10.1126/science.1195203