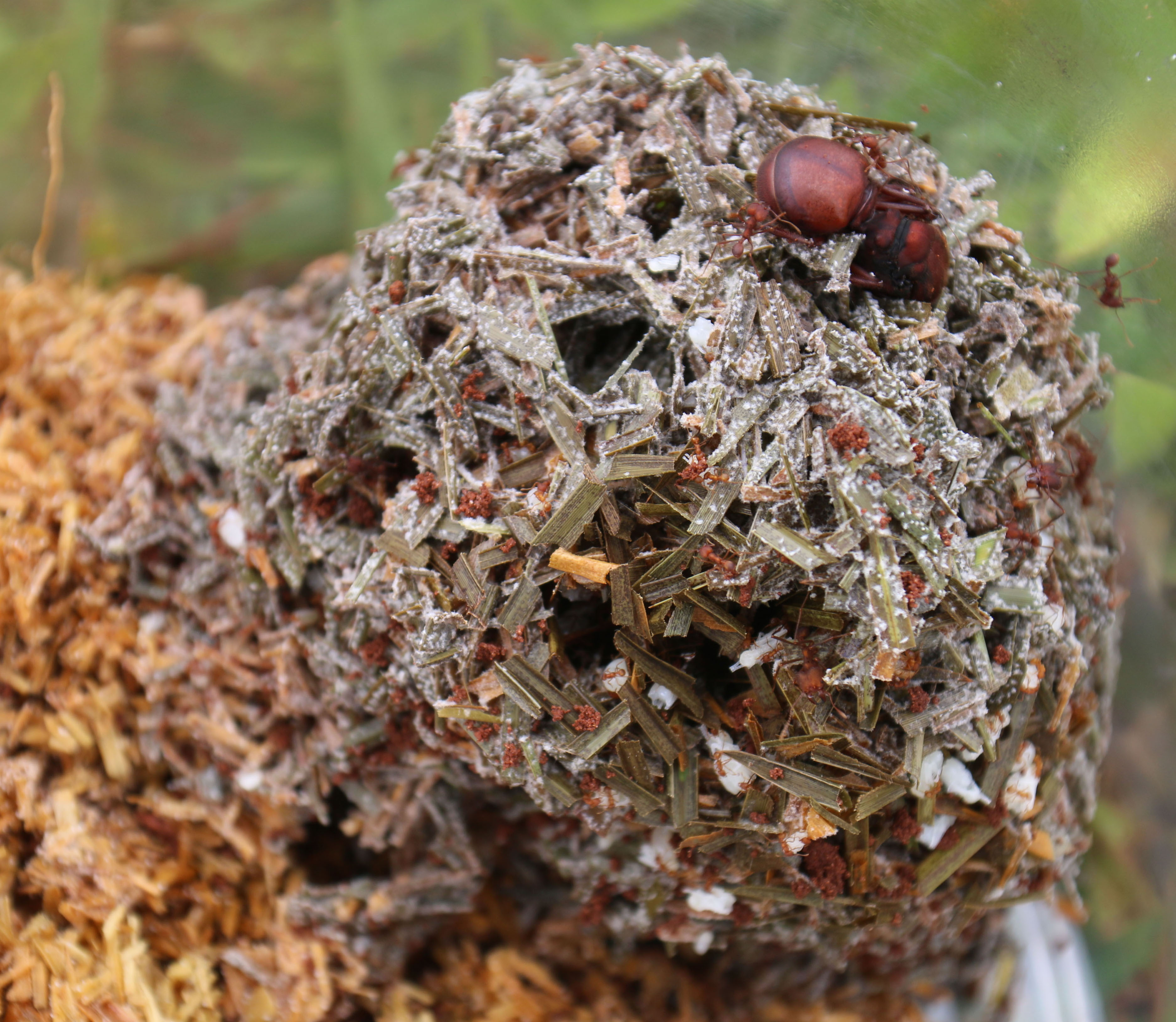 Leucoagaricus gongylophorus AB2
Leucoagaricus gongylophorus is a basidiomycete fungus in the family Agaricaceae. This strain of L. gongylophorus was isolated from Atta bisphaerica fungus garden in Botucatu, SP, Brazil. A. bisphaerica is a species of leaf-cutter ant that specializes in cutting grass. The workers cut grass then return it to their fungus garden where their cultivar L. gongylophorus enzymatically digests the plant material into usable sources of energy for the ants, which it provides to them through gongylidia, specialized hyphal swellings that the ants eat. Another strain of L. gongylophorus was previously sequences by Aylward et al. (2013) from another species of Atta, which cuts dicots. Since dicots and grasses differ in terms of their cell wall composition, we aim to identify genes of interest which may be responsible for the fungus' ability to break down grass. These genes can potentially be used in industrial bioenergy production for grass deconstruction. Furthermore, by comparing these genomes and other strains from various species of Atta we can understand the ants' evolutionary transition to grass-cutting.
Aylward FO, Burnum-Johnson KE, Tringe SG, Teiling C, Tremmel DM, Moeller JA, Scott JJ, Barry KW, Piehowski PD, Nicora CD, Malfatti SA, Monroe ME, Purvine SO, Goodwin LA, Smith RD, Weinstock GM, Gerardo NM, Suen G, Lipton MS, Currie CR Leucoagaricus gongylophorus produces diverse enzymes for the degradation of recalcitrant plant polymers in leaf-cutter ant fungus gardens. Appl Environ Microbiol. 2013 Jun;79(12):3770-8. doi: 10.1128/AEM.03833-12. Epub 2013 Apr 12.