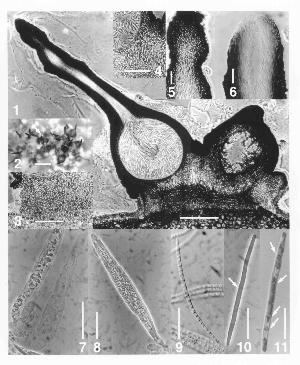 Lollipopaia minuta P26 was sequenced as part of the 1000 Fungal Genomes Project
Lollipopaia minuta Inderb. is a tropical ascomycete in the Diaporthales. The sequenced strain was collected in 1998 in Khao Yai National Park in Thailand from a decaying branch on the ground, and deposited in the University of Alberta Microfungus Collection and Herbarium with accession number UAMH 10372. Lollipopaia minuta grows well in culture and forms clusters of fruiting bodies with long, slender necks (see image). It represents a lineage that is closely related to the economically important plant pathogens in the Diaporthales, including the chestnut blight fungus Cryphonectria parasitica, Phoma spp. and others. The Lollipopaia minuta genome sequence will contribute to our understanding of pathogenicity in the Diaporthales, because L. minuta is closely related to the pathogens but is not one of them.
Reference
Inderbitzin, P., and M. L. Berbee. 2001. Lollipopaia minuta from Thailand, a new genus and species of the Diaporthales (Ascomycetes, Fungi) based on morphological and molecular data. Canadian Journal of Botany 79:1099-1106.