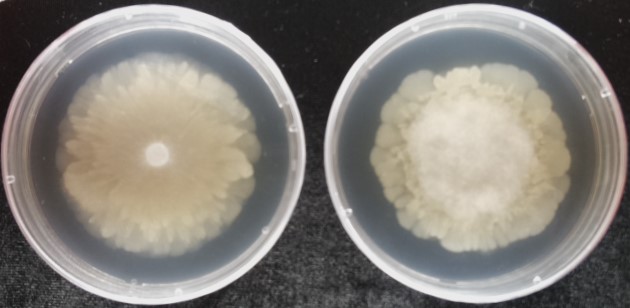 Within the framework of the 'Comparative genomics of early diverging terrestrial fungi and their bacterial endosymbionts' CSP project, we are exploring interactions and evolutionary histories of early diverging lineages of terrestrial fungi and their endobacteria (Uehling et al. 2017). Towards this goal, we are sequencing metagenomes and metatranscriptomes of a diverse panel of fungi in Mucoromycota that can host intracellular bacterial symbionts.
Mortierella is a genus of fungi within Mucoromycota, formally classified as zygomycetes. Mortierella are distributed globally and are frequently isolated and detected in soils and plant rhizospheres. Many species grow rapidly, in part owing to their coenocytic mycelium that has occasional septa and frequent anastomosis. Recent taxonomic revisions of Mortierellaceae have defined thirteen monophyletic genera (Vandepol et al. 2020). The genus Mortierella was retained for the Alpina clade, which contains the type species for the genus, Mortierella polycephala (Coemans 1863).
Mortierella alpina appears to consist of a complex of species that are industrially important given their lipid and fatty acid biosynthesis capacity (Vandepol et al. 2020; Wang et al. 2011). The Mortierella alpina isolate AD266 sequenced here, was obtained from forest soil collected in Corvallis, Oregon, USA. This species grows rapid, is cold adapted, and produces pointed rosettes whose macromorphology may vary depending upon growth medium (Figure 1). It is inhabited by an endobacterium related to Mycoavidus cysteinexigens.
References:
Uehling J, Gryganskyi A, Hameed K, Tschaplinski T, Misztal PK, Wu S, A Desirò, Vande Pol N, Du Z, Zienkiewicz A, Zienkiewicz K, Morin E, Tisserant E, Splivallo R, Hainaut M, Henrissat B, Ohm R, Kuo A, Yan J, Lipzen A, Nolan M, LaButti K, Barry K, Goldstein AH, Labbé J, Schadt C, Tuskan G, Grigoriev I, Martin F, et al. 2017. Comparative genomics of Mortierella elongata and its bacterial endosymbiont Mycoavidus cysteinexigens. Environmental Microbiology.
Vandepol N, Liber J, Desirò A, Na H, Kennedy M, Barry K, Grigoriev IV, Miller AN, O'Donnell K, Stajich JE, Bonito G. 2020. Resolving the Mortierellaceae phylogeny through synthesis of multi-gene phylogenetics and phylogenomics. Fungal Divers. 1–23.
Coemans E. Quelques hyphomycetes nouveaux. 1. Mortierella polycephala et Martensella pectinata. Bull Acad R Sci Belg Cl Sci 2 1863;15:536-44.
Wang L, Chen W, Feng Y, Ren Y, Gu Z, Chen H, Wang H, Thomas MJ, Zhang B, Berquin IM, Li Y, Wu J, Zhang H, Song Y, Liu X, Norris JS, Wang S, Du P, Shen J, Wang N, Yang Y, Wang W, Feng L, Ratledge C, Zhang H, Chen YQ. 2011. Genome Characterization of the Oleaginous Fungus Mortierella alpina. PLoS One. 6:e28319.