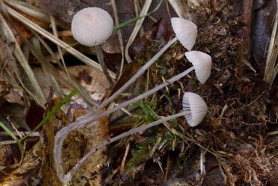 The genome of Mycena albidolilacea was sequenced as part of the Mycenaceae sequencing project and the overarching JGI 1000 Fungal Genomes project "Deep Sequencing of Ecologically-relevant Dikarya" (CSP 1974). This project will examine members of the Mycena genus to evaluate the genomic basis of their different nutritional modes.
Mycena albidolilacea (no English name)
M. albidolilacea is a member of the Rubromarginatae section of the Mycena family (Maas Geesteranus 1988). The specimen for the sequenced culture was collected in Denmark (Holmegårds Mose, W Zealand) the 21th of October 2015 on mixed grass and Salix leaf litter. M. albidolilacea is a rare and poorly known species that has been reported regularly only from a few North and Central European countries1 (Aronsen & Læssøe 2016).
Pileus 6-20 mm across, conical or parabolical to campanulate, flattening with age, shallowly translucent-striate, glabrous, hygrophanous. whitish with a pinkish lilac flush, or pinkie-colour, somewhat more strongly pink lilac at the centre, whitish towards the margin. Odour nitrous, also experienced as raphanoid or indistinctive. Taste mild to strongly raphanoid. Lamellae 15-21 reaching the stipe, ascending, adnate, not decurrent with a tooth, smooth to dorsally intervenose, white, the edge delicately pinkish. Stipe 40-70 x 1-1.5 mm, hollow, fragile, equal, straight, pruinose above, glabrous farther down or (not infrequently) covered with a conspicuous tomentum of long, flexuous, white hairs.2
M. albidolilacea bears close genetic resemblance to several sequences found in high through-put sequencing studies of living roots of mycorrhizal host plants (e.g. Pinus) where supposedly saprotrophs should not normally be found. We sequenced it in order to elucidate whether its genomic architecture can provide information of its true ecology.
This genome was derived from dikaryotic pure culture on MEA agar with ampicilin and benomyl and should be free of xenobiotic contaminations.
References:
Aronsen, A.; Læssøe, T.: The genus Mycena s.l. in The Fungi of Northern Europe, vol. 5. Copenhagen, 373 p (2016).
Maas Geesteranus, R. A. (1988): Conspectus of the Mycenas of the Northern Hemisphere. Proc. Kon. Ned. Akad. v. Wetensch. (Ser. C).
1 https://www.gbif.org/species/2527006
2 http://www.mycena.no/albidolilacea.htm