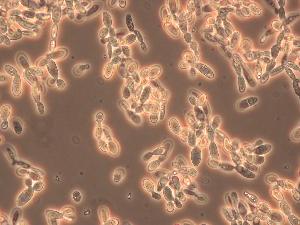 Nadsonia fulvescens var. elongata DSM 6958 is characterized by a unique life cycle. It is one of the few yeasts that divide by bipolar budding, but it is not closely related to other species characterized by bipolar budding. Following conjugation between the parent and the first budding cell, the zygote moves into a second bud formed at the opposite end of the parent cell. A septum then arises between the parental cell and the second bud and the new bud becomes an ascus. This species forms ubiquinone with a side chain of six isoprene units. Based on current phylogeny, related species form ubiquinone with nine isoprene units, thus providing an unusual contrast.
Genome Reference(s)
Please cite the following publication(s) if you use the data from this genome in your research:
Riley R, Haridas S, Wolfe KH, Lopes MR, Hittinger CT, Göker M, Salamov AA, Wisecaver JH, Long TM, Calvey CH, Aerts AL, Barry KW, Choi C, Clum A, Coughlan AY, Deshpande S, Douglass AP, Hanson SJ, Klenk HP, LaButti KM, Lapidus A, Lindquist EA, Lipzen AM, Meier-Kolthoff JP, Ohm RA, Otillar RP, Pangilinan JL, Peng Y, Rokas A, Rosa CA, Scheuner C, Sibirny AA, Slot JC, Stielow JB, Sun H, Kurtzman CP, Blackwell M, Grigoriev IV, Jeffries TW
Comparative genomics of biotechnologically important yeasts.
Proc Natl Acad Sci U S A. 2016 Aug 30;113(35):9882-7. doi: 10.1073/pnas.1603941113