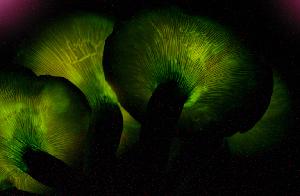 The genome sequence and gene predictions of Omphalotus olearius were not determined by the JGI, but were recieved from Grayson Wawrzyn ([email protected]) and have been published (Wawrzyn GT et al., 2012). Please note that this copy of the genome is not maintained by the author and is therefore not automatically updated.
Commonly known as the Jack-O-Lantern mushroom, since it produce clusters of bright orange fruiting bodies on old hardwood stumps in the fall. The fungus is known to produce secondary metabolites such as illudins which are toxic. Synthetic analogs have been made that are less toxic and with improved selectivity for and efficacy against cancer cells.
The bioluminescent mushroom Jack O'Lantern (Omphalotus olearius, taxonomic synonyms: O. illudens, Clitocybe illudens) was identified 50 years ago as a prolific producer of illudins: sesquiterpenoids which likely arise from a '-6 protoilludene scaffold, and possess potent antitumor and antibacterial activities. Considering the pharmacological importance of illudins, we chose to investigate the STS diversity of O. olearius and identify biosynthetic genes responsible for the synthesis of the cytotoxic compounds.