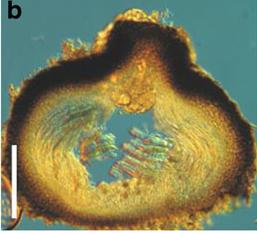 Ophiobolus disseminans Riess (Leptopeltidaceae) has been isolated from the highly poisonous dog's mercury (Mercurialis perennis) in Sweden. This fungus produces globose fruiting bodies that are sunken into the substrate. Only a short, cylindrical perithecial neck is visible. There are numerous asci producing filiform spores that are septate and break in half when they are ripe. The ecology of Ophiobolus disseminans is unknown.
Genome Reference(s)
Please cite the following publication(s) if you use the data from this genome in your research:
Haridas S, Albert R, Binder M, Bloem J, LaButti K, Salamov A, Andreopoulos B, Baker SE, Barry K, Bills G, Bluhm BH, Cannon C, Castanera R, Culley DE, Daum C, Ezra D, González JB, Henrissat B, Kuo A, Liang C, Lipzen A, Lutzoni F, Magnuson J, Mondo SJ, Nolan M, Ohm RA, Pangilinan J, Park HJ, Ramírez L, Alfaro M, Sun H, Tritt A, Yoshinaga Y, Zwiers LH, Turgeon BG, Goodwin SB, Spatafora JW, Crous PW, Grigoriev IV
101 Dothideomycetes genomes: A test case for predicting lifestyles and emergence of pathogens.
Stud Mycol. 2020 Jun;96():141-153. doi: 10.1016/j.simyco.2020.01.003