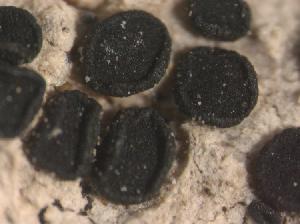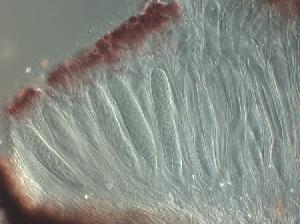 Patellaria atrata (Patellariales, Patellariaceae) produces bitunicate asci on black, disk-shaped fruiting bodies (apothecia). This saprotrophic fungus colonizes preferentially exposed phloem fibers of wood and the decay mode resembles a white rot. The fungus has a tendency to occur in the canopy of floodplain forests but the exact nutritional strategy is unknown. Patellaria atrata delignifies branches that are 1 – 2.5 cm in diameter and is often found associated with Rabenhorstia cf. tiliae (anamorph of Hercospora), which has similar ecological requirements.
Literature:
Baral H. O., Baral O. & Marson G. (2003). In Vivo Veritas. 2nd edition, 2 CD's. Tübingen, Germany.
Unterseher M., Otto P. & Morawetz W. (2003). Studies of the diversity of lignicolous fungi in the canopy of a floodplain forest in Leipzig, Saxony. Boletus 26: 117 – 126.