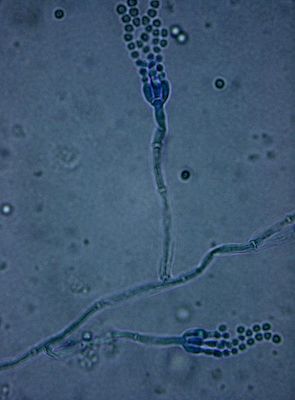 Penicillium genome project
Penicillium, one of the largest and most ubiquitous fungal genera, currently contains more than 500 accepted species occurring worldwide in a diverse range of habitats, from soil to vegetation, air, indoor environments, and various food products [1]. The best known species is P. chrysogenum, the producer of the renowned antibiotic penicillin, which famously revolutionized medical approaches to treating bacterial diseases. Penicillium species play important and varied roles, such as the production of special cheeses by P. camemberti [2] and P. roqueforti [3], and fermentation of sausages by P. nalgiovense and P. salamii [4]. Other species can have adverse effects: allergies in humans, devastating rots on food crops by pre- and post-harvest pathogens, and food contamination by mycotoxins [5].
Most relevant for this project, Penicillium genomes encode enzymes [6-7] that are active on plant biomass (CAZymes) and biosynthetic pathways whose novel enzymes may be utilized for production of biofuels and bioproducts.
References
Houbraken J, Kocsubé S, Visagie CM, Yilmaz N, Wang XC, Meijer M, Kraak B, Hubka V, Bensch K, Samson RA, Frisvad JC. Classification of Aspergillus, Penicillium, Talaromyces and related genera (Eurotiales): An overview of families, genera, subgenera, sections, series and species. Stud Mycol. 2020 Jun 27; 95:5-169. doi: 10.1016/j.simyco.2020.05.002.
Nelson JH. Production of Blue cheese flavor via submerged fermentation by Penicillium roqueforti. J Agric Food Chem. 1970; 18 (4), 567-569. doi: 10.1021/jf60170a024.
Karahadian C, Josephson DB, Lindsay RC. Volatile compounds from Penicillium sp. contributing musty-earthy notes to Brie and Camembert cheese flavors. J Agric Food Chem. 1985; 33 (3), 339-343. doi: 10.1021/jf00063a005.
Magistà D, Susca A, Ferrara M, Logrieco AF, Perrone G. Penicillium species: crossroad between quality and safety of cured meat production. Current Opinion in Food Science. 2017; 17:36–40. doi: 10.1016/j.cofs.2017.09.007.
Visagie CM, Houbraken J, Frisvad JC, Hong SB, Klaassen CH, Perrone G, Seifert KA, Varga J, Yaguchi T, Samson RA. Identification and nomenclature of the genus Penicillium. Stud Mycol. 2014 Jun; 78:343-71. doi: 10.1016/j.simyco.2014.09.001.
Adsul MG, Bastawde KB, Varma AJ, Gokhale DV. Strain improvement of Penicillium janthinellum NCIM 1171 for increased cellulase production. Bioresour Technol. 2007 May; 98(7):1467-73. doi: 10.1016/j.biortech.2006.02.036. Epub 2006 Nov 13.
Terrasan CR, Temer B, Duarte MC, Carmona EC. Production of xylanolytic enzymes by Penicillium janczewskii. Bioresour Technol. 2010 Jun; 101(11):4139-43. doi: 10.1016/j.biortech.2010.01.011. Epub 2010 Feb 1.
Genome Reference(s)
Please cite the following publication(s) if you use the data from this genome in your research:
Visagie CM, Magistà D, Ferrara M, Balocchi F, Duong TA, Eichmeier A, Gramaje D, Aylward J, Baker SE, Barnes I, Calhoun S, De Angelis M, Frisvad JC, Hakalova E, Hayes RD, Houbraken J, Grigoriev IV, LaButti K, Leal C, Lipzen A, Ng V, Pangilinan J, Pecenka J, Perrone G, Piso A, Savage E, Spetik M, Wingfield MJ, Zhang Y, Wingfield BD
IMA genome-F18 : The re-identification of Penicillium genomes available in NCBI and draft genomes for Penicillium species from dry cured meat, Penicillium biforme, P. brevicompactum, P. solitum, and P. cvjetkovicii, Pewenomyces kutranfy, Pew. lalenivora, Pew. tapulicola, Pew. kalosus, Teratosphaeria carnegiei, and Trichoderma atroviride SC1.
IMA Fungus. 2023 Oct 6;14(1):21. doi: 10.1186/s43008-023-00121-w