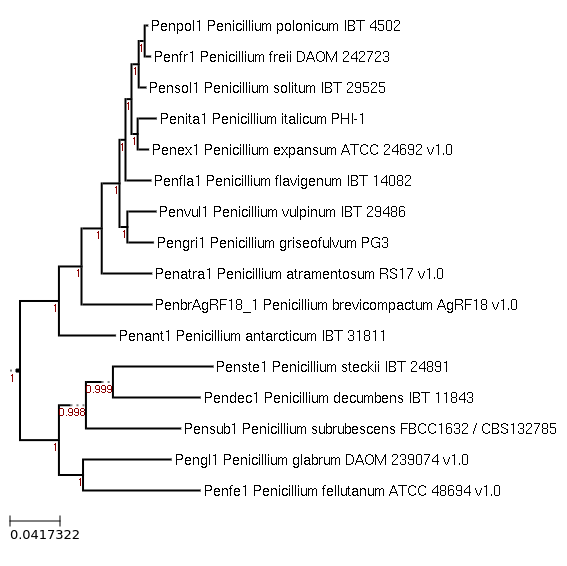 The genome sequence and gene models of Penicillium freii DAOM 242723 were not determined by the Joint Genome Institute (JGI), but were downloaded from Ensembl Fungi on April 11, 2020. Please note that this copy of the genome is not maintained by Ensembl and is therefore not automatically updated. The JGI Annotation Pipeline was used to add additional functional annotation to the author's chromosomes and proteins.
Genome Reference(s)
Please cite the following publication(s) if you use the data from this genome in your research:
Wingfield BD, Ambler JM, Coetzee MP, de Beer ZW, Duong TA, Joubert F, Hammerbacher A, McTaggart AR, Naidoo K, Nguyen HD, Ponomareva E, Santana QS, Seifert KA, Steenkamp ET, Trollip C, van der Nest MA, Visagie CM, Wilken PM, Wingfield MJ, Yilmaz N
IMA Genome-F 6: Draft genome sequences of Armillaria fuscipes, Ceratocystiopsis minuta, Ceratocystis adiposa, Endoconidiophora laricicola, E. polonica and Penicillium freii DAOMC 242723.
IMA Fungus. 2016 Jun;7(1):217-27. doi: 10.5598/imafungus.2016.07.01.11