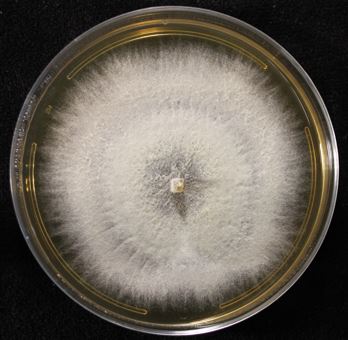 Pestalotiopsis sp. NC0098 was isolated in culture from the surface-sterilized photosynthetic tissue of the red maple, Acer rubrum (Sapindaceae), near Highlands, North Carolina as part of a study examining endophytic and endolichenic fungal communities across North America (U'Ren et al., 2012). We identified this isolate as an unidentified species of Pestalotiopsis (Pezizomycotina, Sordariomycetes, Xylariales, Sporocadeaceae) using ITS-partial LSU rDNA sequencing. Described species of Pestalotiopsis typically are plant pathogens, causing a diversity of symptoms including fruit rots and post-harvest infections. Pestalotiopsis spp. are also known to produce a vast spectrum of novel metabolites (Maharachchikumbura et al., 2014). A limited number of Pestalotiopsis spp. also are opportunistic pathogens of animals, such as P. clavispora as the causative agent in a fungal keratitis case (Monden et al., 2013). As an endophyte, NC0098 is particularly useful for comparative genomic analyses to examine the evolution of pathogenicity and virulence.
References:
Maharachchikumbura, S.S.N, K.D. Hyde, J.Z. Groenewald, J. Xu, P.W. Crous. 2014. Pestalotiopsis revisited. Studies in Mycology. 79: 121–186.
Monden, Y., S. Yamamoto, R. Yamakawa, et al. 2013. First case of fungal keratitis caused by Pestalotiopsis clavispora. Clinical Ophthalmology. 7: 2261–2264.
U'Ren, J. M., F. Lutzoni, J. Miadlikowska, A. Laetsch & A. E. Arnold. 2012. Host- and geographic structure of endophytic and endolichenic fungi at a continental scale. American Journal of Botany. 99: 898–914.