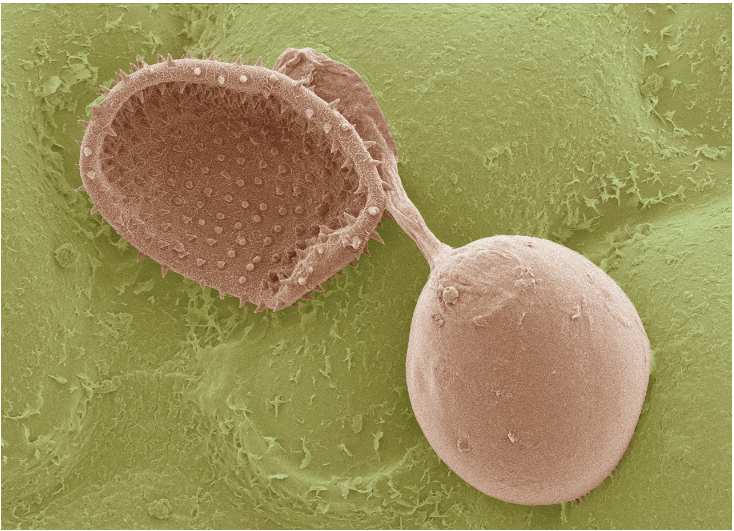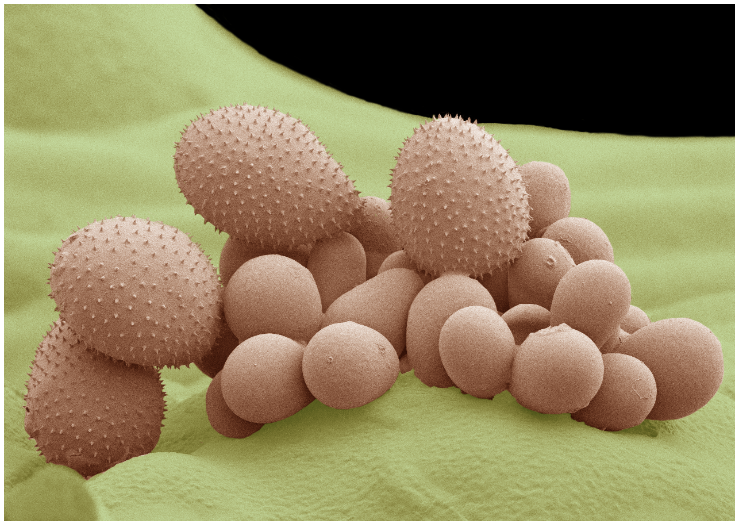 Phakopsora pachyrhizi, the causative agent of Asian Soybean Rust (ASR), is one of the economically most important diseases of soybean and is present in almost all soybean-growing areas. About 300 billion tons of the legume are produced annually and used primarily as feedstock and as a bioenergy source. Yield damage by ASR can be dramatic (ranging from 60 percent in the US to total losses in tropical regions). Currently the disease is mostly controlled by fungicide application. The success of breeding approaches for durable and race-independent ASR-resistant germplasm has so far been limited, particularly because of a lack of genomic information for ASR. The resources now available for the ASR genome at the JGI pave the way for future, sustainable strategies to protect soybean from ASR, such as chemical or biological product application and knowledge-based plant modification by novel breeding or trait approaches.
K8108 is a single urediniosoral isolate from P. pachyrhizi-infected soybean leaves collected in 2015 in Uruguay (Colonia region). The isolate was sequenced using Pacbio and assembled through a joint project between Syngenta and RWTH Aachen University. Fungal material collected at different growth conditions, comprising in vitro, on planta and in planta stages, was used to support RNA profiling and gene model annotation. There are two sets of gene models available for this isolate, one has been generated by the JGI and the second was generated by Syngenta. Both sets of gene models can be obtained from the download page under JGI Data Utilization Policy.
Genome Reference(s)
Please cite the following publication(s) if you use the data from this genome in your research:
Gupta YK, Marcelino-Guimarães FC, Lorrain C, Farmer A, Haridas S, Ferreira EGC, Lopes-Caitar VS, Oliveira LS, Morin E, Widdison S, Cameron C, Inoue Y, Thor K, Robinson K, Drula E, Henrissat B, LaButti K, Bini AMR, Paget E, Singan V, Daum C, Dorme C, van Hoek M, Janssen A, Chandat L, Tarriotte Y, Richardson J, Melo BDVA, Wittenberg AHJ, Schneiders H, Peyrard S, Zanardo LG, Holtman VC, Coulombier-Chauvel F, Link TI, Balmer D, Müller AN, Kind S, Bohnert S, Wirtz L, Chen C, Yan M, Ng V, Gautier P, Meyer MC, Voegele RT, Liu Q, Grigoriev IV, Conrath U, Brommonschenkel SH, Loehrer M, Schaffrath U, Sirven C, Scalliet G, Duplessis S, van Esse HP
Major proliferation of transposable elements shaped the genome of the soybean rust pathogen Phakopsora pachyrhizi.
Nat Commun. 2023 Apr 1;14(1):1835. doi: 10.1038/s41467-023-37551-4