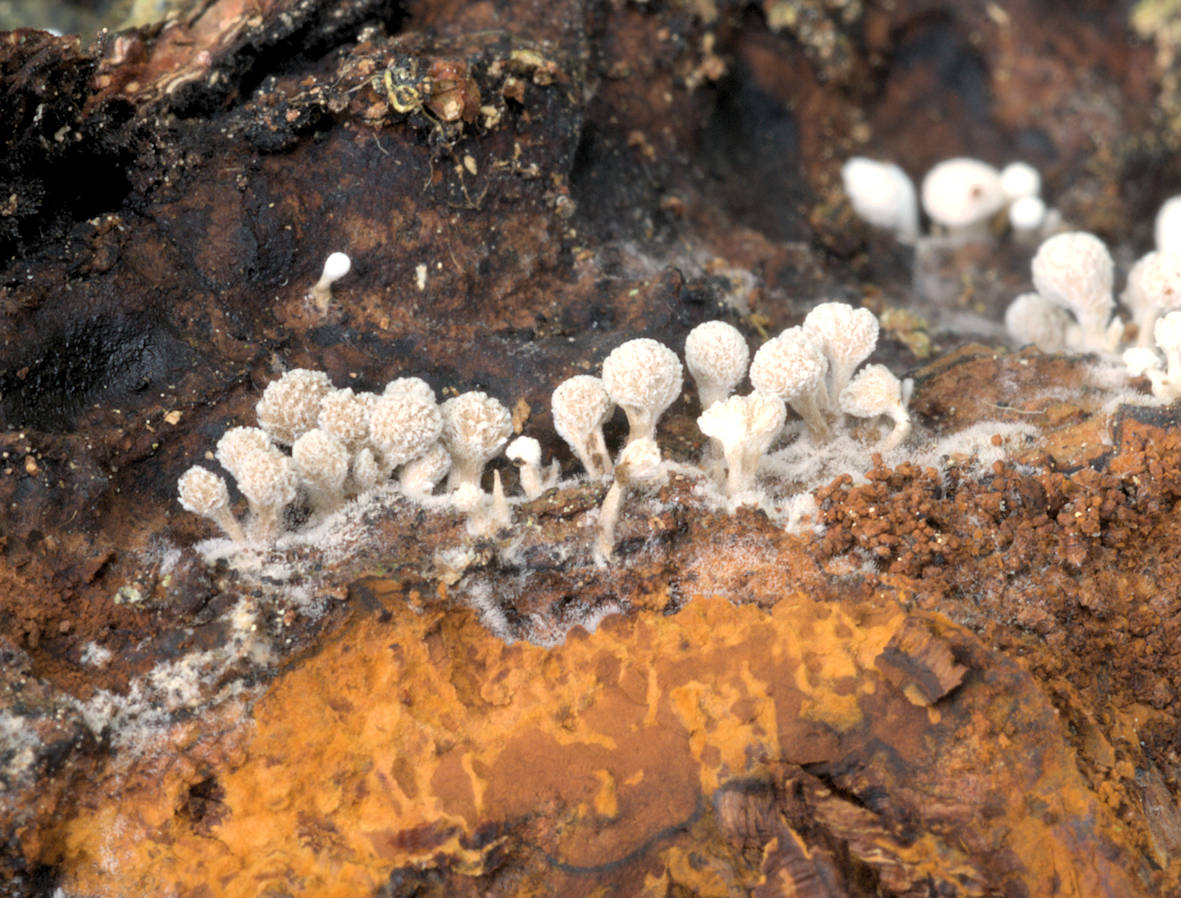 In the "1KFG: Deep Sequencing of Ecologically-relevant Dikarya" project (CSP1974), we aim to sequence additional sampling of genomic diversity within keystone lineages of plant-interacting fungi and saprophytic fungi that are of special ecological importance for understanding terrestrial ecosystems. In addition, comparative genome analysis with saprotrophic, mycorrhizal and pathogenic fungi will provide new insights into the specific and conserved adaptations associated with each fungal lifestyle.

Phleogena faginea OMC 1709

Phleogena faginea is a wood-inhabiting member of the Pucciniomycotina, a fungal subdivision that includes mostly parasites of plants and other fungi. P. faginea forms small, black-grey, stalked fruiting bodies on wood of angiosperms, reminding myxomycetes in shape and size. Spores are born internally in the head of the fruiting body, meaning that Phleogena is a gasteromycete. The species is wide-spread in temperate and boreal zones of the northern and southern hemispheres (Oberwinkler & Bandoni 1982).

Phylogenetically, Phleogena belongs to the class Atractiellomycetes. After the tree root associated Atractiella rhizophila, P. faginea is the second member of its class to have its genome sequenced and first in the family Phleogenaceae (Aime et al. 2014). The genome will aid in building a robust phylogeny of the Pucciniomycotina. In addition, P. faginea is of interest because it appears to be a wood-inhabiting saprotroph, possibly able to degrade main components of wood such as cellulose. Wood decomposing activity has not been studied in the Pucciniomycotina, and this genome is potentially of considerable interest in understanding evolution and diversity of fungal wood decomposition ability.

The genome strain is polysporic, cultured from a fruiting body collected from a standing Alnus incana snag in Soomaa National Park in Estonia.

Researchers who wish to publish analyses using data from unpublished CSP genomes are respectfully required to contact the PI and JGI to avoid potential conflicts on data use and coordinate other publications with the CSP master paper(s).
References:
Aime MC, Toome M, McLaughlin DJ (2014) Pucciniomycotina. In:McLaughlin DJ, Spatafora JW (eds) Systematics and Evolution, vol 7A. The Mycota. Springer, Berlin Heidelberg, pp 271-294
Oberwinkler F, Bandoni RJ (1982) A taxonomic survey of the gasteroid, auricularioid Heterobasidiomycetes. Canadian Journal of Botany 60:1726-1750