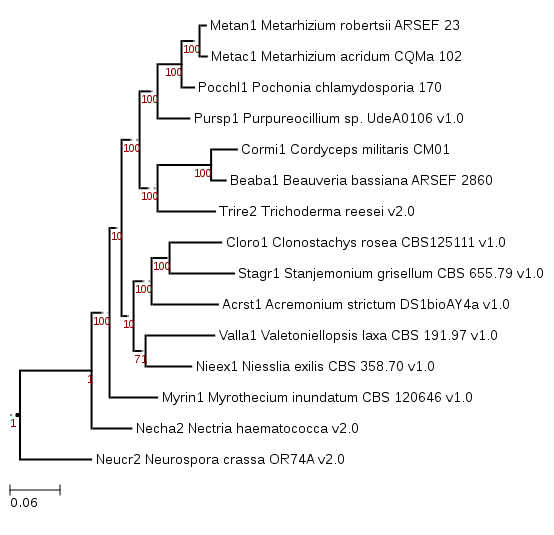 The genome sequence and gene models of Pochonia chlamydosporia 170 were not determined by the Joint Genome Institute (JGI), but were downloaded from NCBI on May 25, 2017. In order to allow comparative analyses with other fungal genomes sequenced by the JGI, a copy of this genome is incorporated into Mycocosm. JGI tools were used to automatically annotate predicted proteins. Please note that this copy of the genome is not maintained by NCBI and is therefore not automatically updated.
From NCBI BioProjects: https://www.ncbi.nlm.nih.gov/bioproject/PRJNA310157
Pochonia chlamydosporia strain 170 assembly
We assembled the high-quality nuclear genome sequence of nematophagous fungi Pochonia chlamydosporia strain 170 based on the next-generation and single-molecule real-time sequencing data, which was used to investigate pathogenic factors including extracellular chitinases and proteases involving nematode eggshell penetration and other functional genes, such as secondary metabolites. In addition, the sequences can be provided as data resource for further comparative genomic analyses.