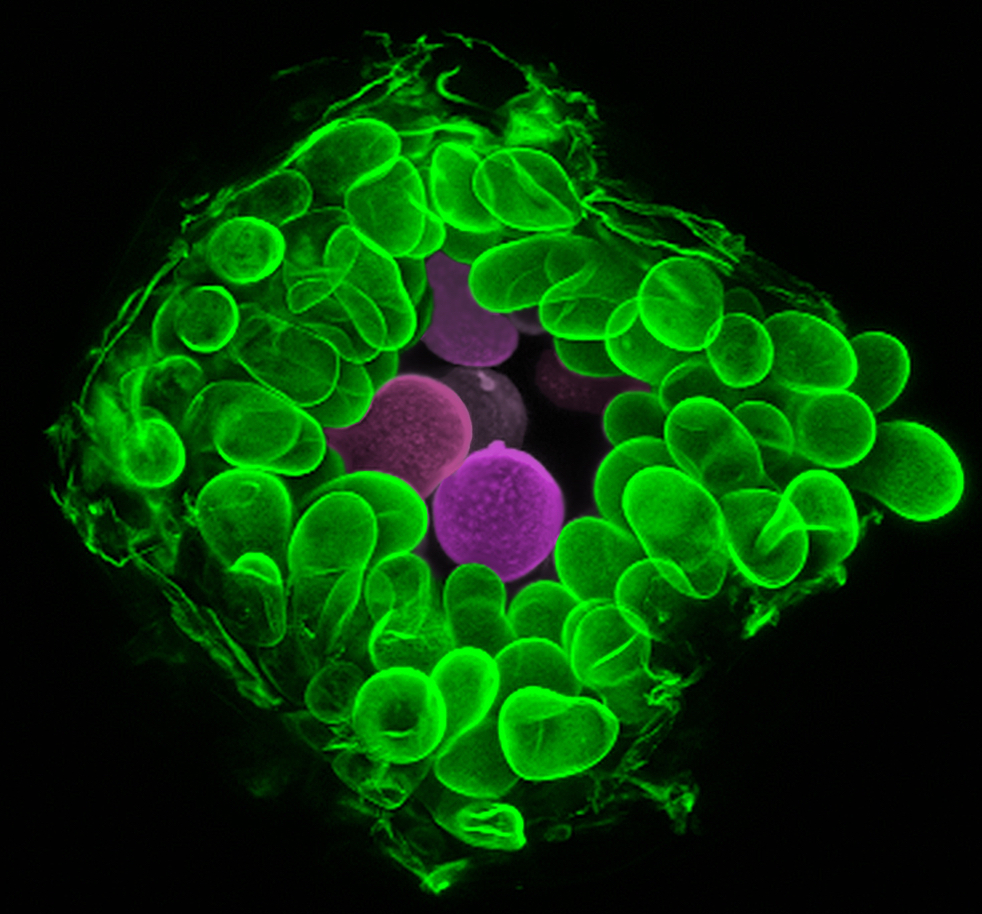 Asian soybean rust (ASR), caused by the obligate biotrophic rust fungus Phakopsora pachyrhizi, is a devastating disease of soybean. Several strategies are used to manage ASR among them fungicides and host resistance. In Brazil, where ASR is the most important fungal disease of soybean, at least three fungicide applications are needed per crop cycle, representing an annual cost of over US $2 billion per season.
P. pachyrhizi is a highly adaptive pathogen that can quickly develop resistance to single-site fungicides and is able to rapidly overcome individual resistance genes. P. pachyrhizi has a highly complex and large genome, 60 times bigger than the yeast genome, composed of ~90% repetitive elements and possesses two nuclei in a single cell.
The P. pachyrhizi isolate PPUFV02 was collected in Brazil and single spore purified by Prof. Sérgio Brommonschenkel at the Federal University of Viçosa (Brazil). The genome of isolate PPUFV02 was sequenced with the PromethION platform (KeyGene, pro bono). These data together with Pacific Biosciences data, allowed the 2Blades Group at the Sainsbury laboratory (UK) to resolve the complex genome of P. pachyrhizi. The Phakopsora pachyrhizi PPUFV02 genome was assembled by Dr. Peter van Esse's group at The Sainsbury Laboratory and annotated using the JGI fungal annotation pipeline. This genome, along with other isolates MG2006 and K8108 available at Mycoscom will facilitate comparative genomic studies by the community.
The release of three high-quality P. pachyrhizi genomes will enable researchers to reveal the genetic and molecular mechanisms that underly evolution and pathogenesis. This, in turn, will contribute to a more stable and sustainable ASR management.
Genome Reference(s)
Please cite the following publication(s) if you use the data from this genome in your research:
Gupta YK, Marcelino-Guimarães FC, Lorrain C, Farmer A, Haridas S, Ferreira EGC, Lopes-Caitar VS, Oliveira LS, Morin E, Widdison S, Cameron C, Inoue Y, Thor K, Robinson K, Drula E, Henrissat B, LaButti K, Bini AMR, Paget E, Singan V, Daum C, Dorme C, van Hoek M, Janssen A, Chandat L, Tarriotte Y, Richardson J, Melo BDVA, Wittenberg AHJ, Schneiders H, Peyrard S, Zanardo LG, Holtman VC, Coulombier-Chauvel F, Link TI, Balmer D, Müller AN, Kind S, Bohnert S, Wirtz L, Chen C, Yan M, Ng V, Gautier P, Meyer MC, Voegele RT, Liu Q, Grigoriev IV, Conrath U, Brommonschenkel SH, Loehrer M, Schaffrath U, Sirven C, Scalliet G, Duplessis S, van Esse HP
Major proliferation of transposable elements shaped the genome of the soybean rust pathogen Phakopsora pachyrhizi.
Nat Commun. 2023 Apr 1;14(1):1835. doi: 10.1038/s41467-023-37551-4