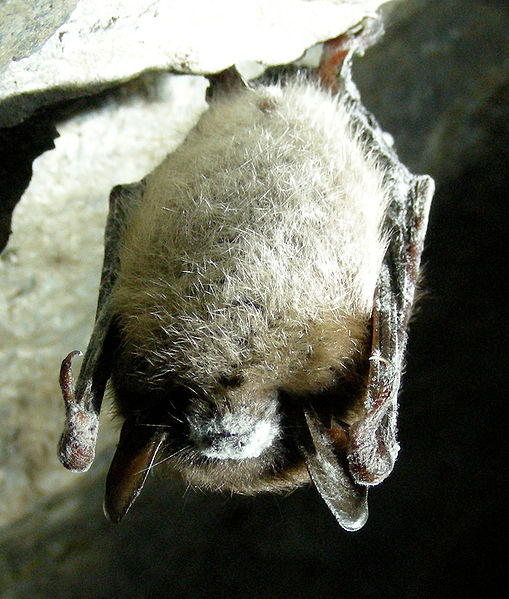 The genome sequence and gene models of Pseudogymnoascus destructans 20631-21 were not determined by the Joint Genome Institute (JGI), but were downloaded from NCBI on May 25, 2017. In order to allow comparative analyses with other fungal genomes sequenced by the JGI, a copy of this genome is incorporated into Mycocosm. JGI tools were used to automatically annotate predicted proteins. Please note that this copy of the genome is not maintained by NCBI and is therefore not automatically updated.
From NCBI Genomes: https://www.ncbi.nlm.nih.gov/genome/?term=txid658429
Pseudogymnoascus destructans
Causative agent of the White-Nose Syndrome cutaneous infection, a new species of Geomyces
This fungus was recently associated with the skin infection that is the hallmark of bat white-nose syndrome (WNS). Since first described in 2006, WNS has devastated populations of cave-hibernating bats and expanded to 11 states in the USA and two Canadian provinces, killing over one million bats. It is a psychrophilic (cold-loving) fungus and grows optimally between 5°C and 14°C, the same as the body temperature of hibernating cave bat species from temperate regions.
Genome Reference(s)
Please cite the following publication(s) if you use the data from this genome in your research:
Drees KP, Palmer JM, Sebra R, Lorch JM, Chen C, Wu CC, Bok JW, Keller NP, Blehert DS, Cuomo CA, Lindner DL, Foster JT
Use of Multiple Sequencing Technologies To Produce a High-Quality Genome of the Fungus Pseudogymnoascus destructans, the Causative Agent of Bat White-Nose Syndrome.
Genome Announc. 2016 Jun 30;4(3):. doi: 10.1128/genomeA.00445-16