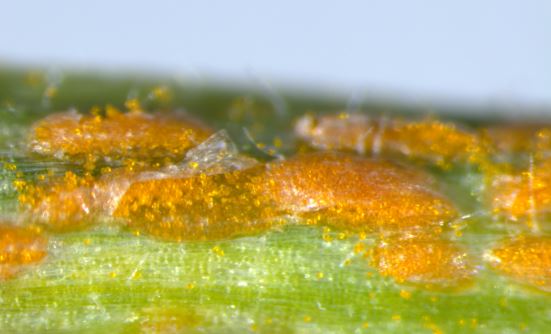 The basidiomycete fungus Puccinia striiformis f. sp. tritici is the causal agent of wheat stripe rust, also known as wheat yellow rust. The particular pathotype (104 E137 A-) was collected from the wheat growing region of Australia in 1982 (Plant Breeding Institute accession 821559 = 415). This pathotype is virulent on Heines VII (Yr2, Yr25), Vilmorin 23 (Yr3), Hybrid 46 (Yr4), Stubes dickkopf, Nord Deprez, Suwon92/Omar and Avocet S (Wellings 2007). The rust propagated for PacBio sequencing was produced by selecting a single pustule of the original isolate (increase 0415Ga) on wheat plants of the susceptible variety 'Morocco'.

The genome sequence and gene models of Puccinia striiformis f. sp. tritici 104 E137 A- were not determined by the Joint Genome Institute (JGI), but were provided by Benjamin Schwessinger on Sept 11th, 2017. In order to allow comparative analyses with other fungal genomes sequenced by the JGI, a copy of this genome is incorporated into Mycocosm. JGI tools were used to automatically annotate predicted proteins. Please note that this copy of the genome is not maintained by Benjamin Schwessinger and is therefore not automatically updated.
If you use this genome in your research, please cite:
Schwessinger et al., 2017. A near complete haplotype-phased genome of the dikaryotic wheat stripe rust fungus Puccinia striiformis f. sp. tritici reveals high inter-haplome diversity. BioRxiv. doi: https://doi.org/10.1101/192435
References:

Wellings CR. 2007. Puccinia striiformis in Australia: a review of the incursion, evolution, and adaptation of stripe rust in the period 1979–2006. Aust J Agric Res 58:567–575.