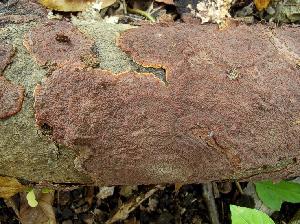 This genome was sequenced as a part of the large-scale multi-genome JGI CSP Saprotrophic Agaricomycotina Project (SAP), which focuses on the diversity and evolution of decay mechanisms, organismal phylogenetic relationships, and developmental evolution. A large collaborative effort led by PI of this project, David Hibbett (Clark University) aims for master publication(s) of the SAP data analysis. Researchers who wish to publish analyses using data from unpublished SAP genomes are respectfully required to contact the PI and JGI to avoid potential conflicts on data use and coordinate other publications with the SAP master paper(s).
Punctularia strigosozonata (Schwein.) P.H.B. Talbot is a widespread resupinate fungus on hardwood, especially Populus species. The fungus is in a group called the Corticiales that also includes plant pathogens, for example, the red turfgrass fungus Laetisaria fuciformis and Erythricium salmonicolor causing pink disease in coffee, citrus, and rubber trees. In addition, the Corticiales includes saprotrophs (Corticium) and several lineages that are associated with lichens (Marchandiomyces, Marchandiobasidium). Punctularia strigosozonata causes a white rot, which is not well documented in Corticiales. The genomic sequence of P. strigosozonata will provide data for a previously unsampled clade that will help to characterize the details of white rot in this group and it may also provide first clues to the pathogenicity of other economically important species in the Corticiales.
Genome Reference(s)
Please cite the following publication(s) if you use the data from this genome in your research:
Floudas D, Binder M, Riley R, Barry K, Blanchette RA, Henrissat B, Martínez AT, Otillar R, Spatafora JW, Yadav JS, Aerts A, Benoit I, Boyd A, Carlson A, Copeland A, Coutinho PM, de Vries RP, Ferreira P, Findley K, Foster B, Gaskell J, Glotzer D, Górecki P, Heitman J, Hesse C, Hori C, Igarashi K, Jurgens JA, Kallen N, Kersten P, Kohler A, Kües U, Kumar TK, Kuo A, LaButti K, Larrondo LF, Lindquist E, Ling A, Lombard V, Lucas S, Lundell T, Martin R, McLaughlin DJ, Morgenstern I, Morin E, Murat C, Nagy LG, Nolan M, Ohm RA, Patyshakuliyeva A, Rokas A, Ruiz-Dueñas FJ, Sabat G, Salamov A, Samejima M, Schmutz J, Slot JC, St John F, Stenlid J, Sun H, Sun S, Syed K, Tsang A, Wiebenga A, Young D, Pisabarro A, Eastwood DC, Martin F, Cullen D, Grigoriev IV, Hibbett DS
The Paleozoic origin of enzymatic lignin decomposition reconstructed from 31 fungal genomes.
Science. 2012 Jun 29;336(6089):1715-9. doi: 10.1126/science.1221748