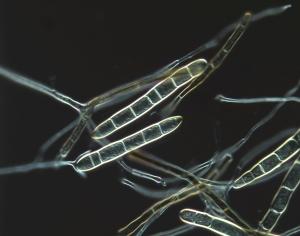 This genome was sequenced by the Broad Institute.
The Pyrenophora sequence generated provides a genome-wide view of this economically and scientifically important plant pathogen. The information created through this project will help elucidate the underlying molecular mechanisms of pathogenicity (virulence) and disease susceptibility (compatibility). P. tritici-repentis serves as a unique model for resolving these mechanisms, which are currently not well understood. Equally as important, the information created will serve as a basis for research and discovery in controlling the significant disease caused by this plant pathogen. In addition, given that this is the first species from the genus Pyrenophora to be sequenced, the genome of P. tritici-repentis should provide a valuable resource for other grass pathogens in this genus. Finally, sequence data generated from this project facilitates activities in functional genomics and provides robust sampling of the Pleosporales for comparative genomic studies by the fungal community.
See also Pyrenophora tritici-repentis at Broad Institute
Genome Reference(s)
Please cite the following publication(s) if you use the data from this genome in your research:
Manning VA, Pandelova I, Dhillon B, Wilhelm LJ, Goodwin SB, Berlin AM, Figueroa M, Freitag M, Hane JK, Henrissat B, Holman WH, Kodira CD, Martin J, Oliver RP, Robbertse B, Schackwitz W, Schwartz DC, Spatafora JW, Turgeon BG, Yandava C, Young S, Zhou S, Zeng Q, Grigoriev IV, Ma LJ, Ciuffetti LM
Comparative genomics of a plant-pathogenic fungus, Pyrenophora tritici-repentis, reveals transduplication and the impact of repeat elements on pathogenicity and population divergence.
G3 (Bethesda). 2013 Jan;3(1):41-63. doi: 10.1534/g3.112.004044