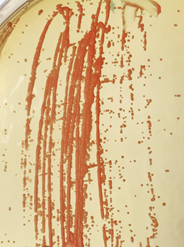 Rhodosporidium glutinis ATCC 204091 (also known as Rhodosporidium toruloides) is a pink-colored oleaginous fungus. It was isolated from soil in Baroda, India and can grow on a wide range of carbon sources. The strain was obtained from the ATCC.
Please note: The Rhodosporidium glutinis ATCC 204091 was not sequenced or assembled at the DOE Joint Genome Institute. Instead, the assembly (Paul et al., 2014) was downloaded from NCBI on 6/3/2019. Gene models and functional predictions were then generated using the JGI annotation pipeline.
References:
Paul, D., Magbanua, Z., Arick, M., French, T., Bridges, S.M., Burgess, S.C., Lawrence, M.L., 2014. Genome Sequence of the Oleaginous Yeast Rhodotorula glutinis ATCC 204091. Genome Announcements 13;2(1). doi: 10.1128/genomeA.00046-14.