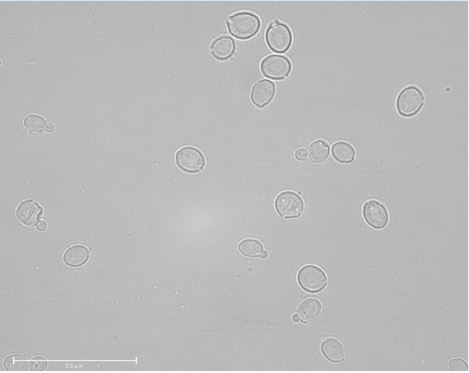 Scheffersomyces gosingicus was assigned as Candida after being isolated during an investigation of the yeast community associated with soil in Taiwan (1). Phylogenetic analyses based on a multilocus dataset placed this species, previously known by Candida gosingicus, in the earliest derived subclade of Scheffersomyces spartinae (2). Unlike its closely related species, S. gosingicus is a cellobiose-fermenting yeast, but it shares with S. spartinae the inability to ferment D-xylose (2,3). A previous study suggested that the genus Scheffersomyces should be circumscribed to the monophyletic group of xylose-fermenting yeasts (3). Whole genome sequencing of this species can provide information about its phylogenetic placement and traits of interest for biotechnological purposes.
References:
(1) Chang, C. F., Yao, C. H., Young, S. S., Limtong, S., Kaewwichian, R., Srisuk, N., & Lee, C. F. (2011). Candida gosingica sp. nov., an anamorphic ascomycetous yeast closely related to Scheffersomyces spartinae. Int. J. Syst. Evol. Microbiol., 61(3), 690-694.
(2) Urbina H & Blackwell M. (2012). Multilocus Phylogenetic Study of the Scheffersomyces Yeast Clade and Characterization of the N-Terminal Region of Xylose Reductase Gene. PLOS One. 7(6):e39128.
(3) Suh, S. O., Houseknecht, J. L., Gujjari, P., & Zhou, J. J. (2013). Scheffersomyces parashehatae fa, sp. nov., Scheffersomyces xylosifermentans fa, sp. nov., Candida broadrunensis sp. nov. and Candida manassasensis sp. nov., novel yeasts associated with wood-ingesting insects, and their ecological and biofuel implications. Int. J. Syst. Evol. Microbiol, 63(Pt_11), 4330-4339.