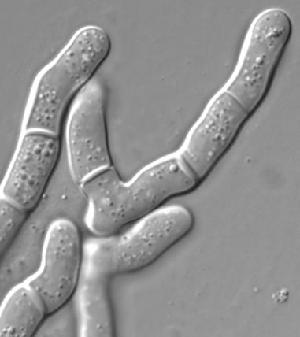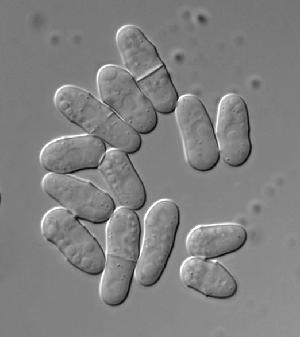 This genome was sequenced by the Broad Institute.
The description of Schizosaccharomyces japonicus was quoted from Broad.
Unlike other fission yeasts, Schizosaccharomyces japonicus readily adopts a invasive, hyphal growth form. Such growth is an important virulence trait in pathogenic fungi, making Schizosaccharomyces japonicus, a potentially important model for fungal disease. In addition, the three fission yeast form an early-branching clade among the Ascomycete (ascus-forming) fungi, which include yeast, hyphal fungi, and truffles. Comparison within the Schizosaccharomyces and between them and other Ascomycetes should provide insight into the evolution of multicellular fungi and eukaryotes, in general.
Genome Reference(s)
Please cite the following publication(s) if you use the data from this genome in your research:
Rhind N, Chen Z, Yassour M, Thompson DA, Haas BJ, Habib N, Wapinski I, Roy S, Lin MF, Heiman DI, Young SK, Furuya K, Guo Y, Pidoux A, Chen HM, Robbertse B, Goldberg JM, Aoki K, Bayne EH, Berlin AM, Desjardins CA, Dobbs E, Dukaj L, Fan L, FitzGerald MG, French C, Gujja S, Hansen K, Keifenheim D, Levin JZ, Mosher RA, Müller CA, Pfiffner J, Priest M, Russ C, Smialowska A, Swoboda P, Sykes SM, Vaughn M, Vengrova S, Yoder R, Zeng Q, Allshire R, Baulcombe D, Birren BW, Brown W, Ekwall K, Kellis M, Leatherwood J, Levin H, Margalit H, Martienssen R, Nieduszynski CA, Spatafora JW, Friedman N, Dalgaard JZ, Baumann P, Niki H, Regev A, Nusbaum C
Comparative functional genomics of the fission yeasts.
Science. 2011 May 20;332(6032):930-6. doi: 10.1126/science.1203357
Credit
Schizosaccharomyces group Sequencing Project, Broad Institute of Harvard and MIT