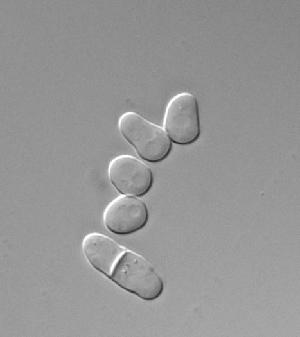 This genome was sequenced by the Broad Institute.

Description of Schizosaccharomyces octosporus has been quoted from Broad.

Schizosaccharomyces octosporus is a relative of the two other known fission yeast, Schizosaccharomyces japonicus and the well studied fission yeast Schizosaccharomyces pombe. It has a very similar life style to S. pombe, the major difference being its eight-spored ascii.
Genome Reference(s)
Please cite the following publication(s) if you use the data from this genome in your research:
Rhind N, Chen Z, Yassour M, Thompson DA, Haas BJ, Habib N, Wapinski I, Roy S, Lin MF, Heiman DI, Young SK, Furuya K, Guo Y, Pidoux A, Chen HM, Robbertse B, Goldberg JM, Aoki K, Bayne EH, Berlin AM, Desjardins CA, Dobbs E, Dukaj L, Fan L, FitzGerald MG, French C, Gujja S, Hansen K, Keifenheim D, Levin JZ, Mosher RA, Müller CA, Pfiffner J, Priest M, Russ C, Smialowska A, Swoboda P, Sykes SM, Vaughn M, Vengrova S, Yoder R, Zeng Q, Allshire R, Baulcombe D, Birren BW, Brown W, Ekwall K, Kellis M, Leatherwood J, Levin H, Margalit H, Martienssen R, Nieduszynski CA, Spatafora JW, Friedman N, Dalgaard JZ, Baumann P, Niki H, Regev A, Nusbaum C
Comparative functional genomics of the fission yeasts.
Science. 2011 May 20;332(6032):930-6. doi: 10.1126/science.1203357
Credit
Schizosaccharomyces group Sequencing Project, Broad Institute of Harvard and MIT