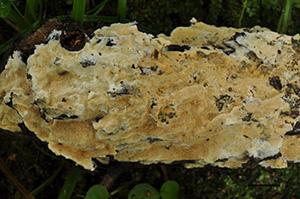 Within the 1000 Fungal Genomes project, the genome of Schizopora paradoxa, the second most common wood inhabiting fungi in Korea (East Asia), has been sequenced. This species is on decayed frondose wood in all kinds of deciduous forests, as well as in less fertile ones with deciduous trees mixed in conifer communities. The taxonomical discrepancy is found in NCBI classification systems - the species is recently assigned to family Schizoporaceae by 'Dictionary of the fungi (10th) (2008) but NCBI used the old classification (family Corticiaceae). S. paradoxa is a cosmopolitan species and grows on deciduous trees and shows morphological diversity.
Genome Reference(s)
Please cite the following publication(s) if you use the data from this genome in your research:
Min B, Park H, Jang Y, Kim JJ, Kim KH, Pangilinan J, Lipzen A, Riley R, Grigoriev IV, Spatafora JW, Choi IG
Genome sequence of a white rot fungus Schizopora paradoxa KUC8140 for wood decay and mycoremediation.
J Biotechnol. 2015 Oct 10;211():42-3. doi: 10.1016/j.jbiotec.2015.06.426