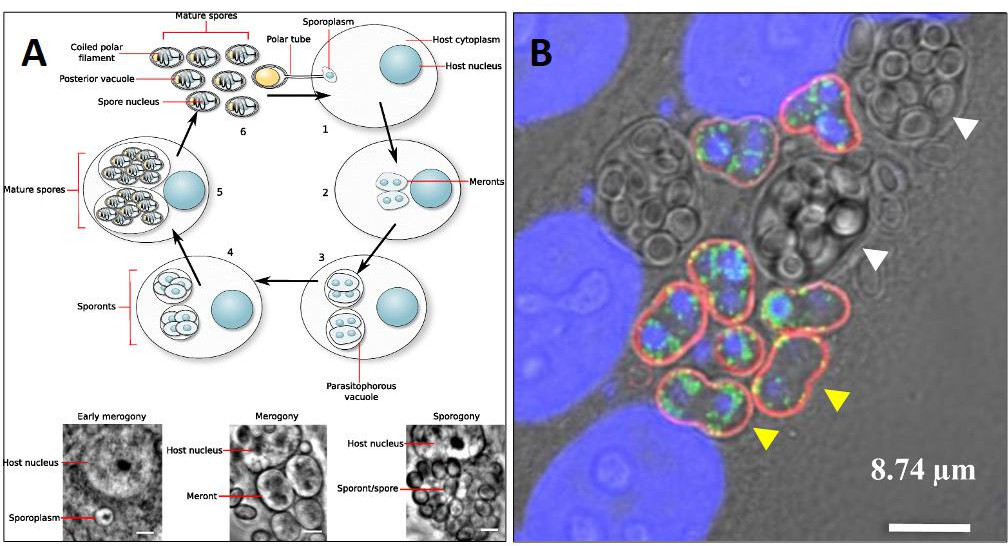 The genome sequence and gene models of Trachipleistophora hominis were not determined by the Joint Genome Institute (JGI), but were downloaded from Ensembl Fungi on April 11, 2020. Please note that this copy of the genome is not maintained by Ensembl and is therefore not automatically updated. The JGI Annotation Pipeline was used to add additional functional annotation to the author's chromosomes and proteins.
Genome Reference(s)
Please cite the following publication(s) if you use the data from this genome in your research:
Heinz E, Williams TA, Nakjang S, Noël CJ, Swan DC, Goldberg AV, Harris SR, Weinmaier T, Markert S, Becher D, Bernhardt J, Dagan T, Hacker C, Lucocq JM, Schweder T, Rattei T, Hall N, Hirt RP, Embley TM
The genome of the obligate intracellular parasite Trachipleistophora hominis: new insights into microsporidian genome dynamics and reductive evolution.
PLoS Pathog. 2012;8(10):e1002979. doi: 10.1371/journal.ppat.1002979
Watson AK, Williams TA, Williams BA, Moore KA, Hirt RP, Embley TM
Transcriptomic profiling of host-parasite interactions in the microsporidian Trachipleistophora hominis.
BMC Genomics. 2015 Nov 21;16():983. doi: 10.1186/s12864-015-1989-z