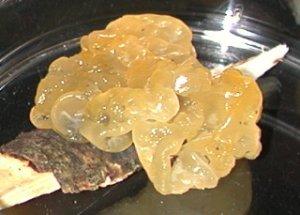 Tremella species are jelly fungi found commonly associated with dead and decaying wood. Jelly fungi are heterobasidiomycetes and named according to their fruiting body structures, the consistency of which is similar to jelly. Of the Tremella sp., Tremella mesenterica has garnered the most attention: the key interest in T. mesenterica is the potential to derive fuel ethanol from lignocellulosic biomass. Identifying the factors responsible for degrading biomass is central to understanding the biological processes that impact bio-energy research. The biodegradation of wood components occurs in the presence of mostly wood rotting basidiomycetous fungi. T. mesenterica degrades lignin on decaying wood causing white rot disease, leaving the wood bleached or white in color. Lignin is an integral part of the plant cell wall and one of the most abundant biomolecules in the world next to cellulose. Lignin degradation also requires the presence of cellulose. The process occurs in two steps, saccharification and fermentation, which results in the production of fuel ethanol. The key interest in fungi such as T. mesenterica is the potential to introduce an alternative mechanism, which aims to generate energy that is affordable, reliable, and environmentally sound. The T. mesenterica genome sequence will reveal factors required to mediate lignin degradation on wood. Fungi can then be bioengineered to degrade this biomolecule more efficiently to produce large quantities of fuel ethanol.
Genome Reference(s)
Please cite the following publication(s) if you use the data from this genome in your research:
Floudas D, Binder M, Riley R, Barry K, Blanchette RA, Henrissat B, Martínez AT, Otillar R, Spatafora JW, Yadav JS, Aerts A, Benoit I, Boyd A, Carlson A, Copeland A, Coutinho PM, de Vries RP, Ferreira P, Findley K, Foster B, Gaskell J, Glotzer D, Górecki P, Heitman J, Hesse C, Hori C, Igarashi K, Jurgens JA, Kallen N, Kersten P, Kohler A, Kües U, Kumar TK, Kuo A, LaButti K, Larrondo LF, Lindquist E, Ling A, Lombard V, Lucas S, Lundell T, Martin R, McLaughlin DJ, Morgenstern I, Morin E, Murat C, Nagy LG, Nolan M, Ohm RA, Patyshakuliyeva A, Rokas A, Ruiz-Dueñas FJ, Sabat G, Salamov A, Samejima M, Schmutz J, Slot JC, St John F, Stenlid J, Sun H, Sun S, Syed K, Tsang A, Wiebenga A, Young D, Pisabarro A, Eastwood DC, Martin F, Cullen D, Grigoriev IV, Hibbett DS
The Paleozoic origin of enzymatic lignin decomposition reconstructed from 31 fungal genomes.
Science. 2012 Jun 29;336(6089):1715-9. doi: 10.1126/science.1221748