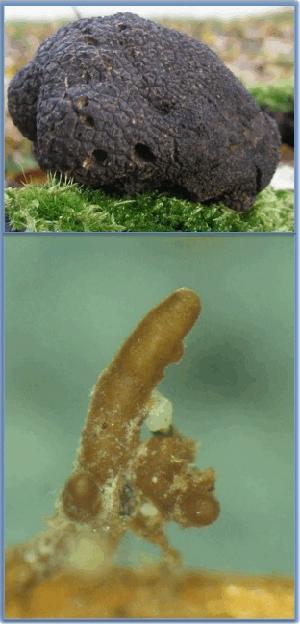 This copy of the genome of
Tuber melanosporum
was obtained from the
Tuber Genome Browser
at Genoscope. In order to allow comparative analyses with other fungal genomes sequenced by the Joint Genome Institute, a copy of this genome is incorporated into MycoCosm.
Genome Reference(s)
Please cite the following publication(s) if you use the data from this genome in your research:
Martin F, Kohler A, Murat C, Balestrini R, Coutinho PM, Jaillon O, Montanini B, Morin E, Noel B, Percudani R, Porcel B, Rubini A, Amicucci A, Amselem J, Anthouard V, Arcioni S, Artiguenave F, Aury JM, Ballario P, Bolchi A, Brenna A, Brun A, Buée M, Cantarel B, Chevalier G, Couloux A, Da Silva C, Denoeud F, Duplessis S, Ghignone S, Hilselberger B, Iotti M, Marçais B, Mello A, Miranda M, Pacioni G, Quesneville H, Riccioni C, Ruotolo R, Splivallo R, Stocchi V, Tisserant E, Viscomi AR, Zambonelli A, Zampieri E, Henrissat B, Lebrun MH, Paolocci F, Bonfante P, Ottonello S, Wincker P
Périgord black truffle genome uncovers evolutionary origins and mechanisms of symbiosis.
Nature. 2010 Apr 15;464(7291):1033-8. doi: 10.1038/nature08867
Murat C, Payen T, Noel B, Kuo A, Morin E, Chen J, Kohler A, Krizsán K, Balestrini R, Da Silva C, Montanini B, Hainaut M, Levati E, Barry KW, Belfiori B, Cichocki N, Clum A, Dockter RB, Fauchery L, Guy J, Iotti M, Le Tacon F, Lindquist EA, Lipzen A, Malagnac F, Mello A, Molinier V, Miyauchi S, Poulain J, Riccioni C, Rubini A, Sitrit Y, Splivallo R, Traeger S, Wang M, Žifčáková L, Wipf D, Zambonelli A, Paolocci F, Nowrousian M, Ottonello S, Baldrian P, Spatafora JW, Henrissat B, Nagy LG, Aury JM, Wincker P, Grigoriev IV, Bonfante P, Martin FM
Pezizomycetes genomes reveal the molecular basis of ectomycorrhizal truffle lifestyle.
Nat Ecol Evol. 2018 Dec;2(12):1956-1965. doi: 10.1038/s41559-018-0710-4