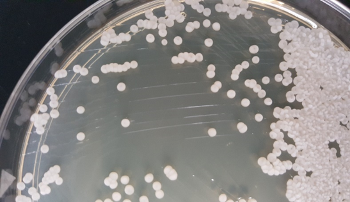 Yarrowia lipolytica, a generally regarded-as-safe oleaginous yeast, is an emerging bioenergy microbe. It can natively produce high amounts of alpha-ketoglutarate, citrate, and neutral lipids by assimilating various substrates (e.g. hydrocarbons, ethanol, acetate, C5/C6 sugars, cellobiose, etc.) under specific conditions. A beneficial phenotype of Y. lipolytica is its exceptional tolerance to high salinity, organic solvents, and broad range of pH (pH 2-11). Y. lipolytica NRRL YB420, isolated from milled corn (maize) fiber tailings from Pekin, IL, USA exhibited robust growth in up to 75% undetoxified switchgrass hydrolysate with superior lipid production, approximately 64% greater lipid titers over the model strain CLIB89 (W29) [1].
Reference:
Quarterman, J., et al., A survey of yeast from the Yarrowia clade for lipid production in dilute acid pretreated lignocellulosic biomass hydrolysate. Appl Microbiol Biotechnol, 2017. 101(8): p. 3319-3334.
Genome Reference(s)
Please cite the following publication(s) if you use the data from this genome in your research:
Walker C, Ryu S, Na H, Zane M, LaButti K, Lipzen A, Haridas S, Barry K, Grigoriev IV, Quarterman J, Slininger P, Dien B, Trinh CT
Draft Genome Assemblies of Five Robust Yarrowia lipolytica Strains Exhibiting High Lipid Production, Pentose Sugar Utilization, and Sugar Alcohol Secretion from Undetoxified Lignocellulosic Biomass Hydrolysates.
Microbiol Resour Announc. 2018 Sep;7(12):. doi: 10.1128/MRA.01040-18