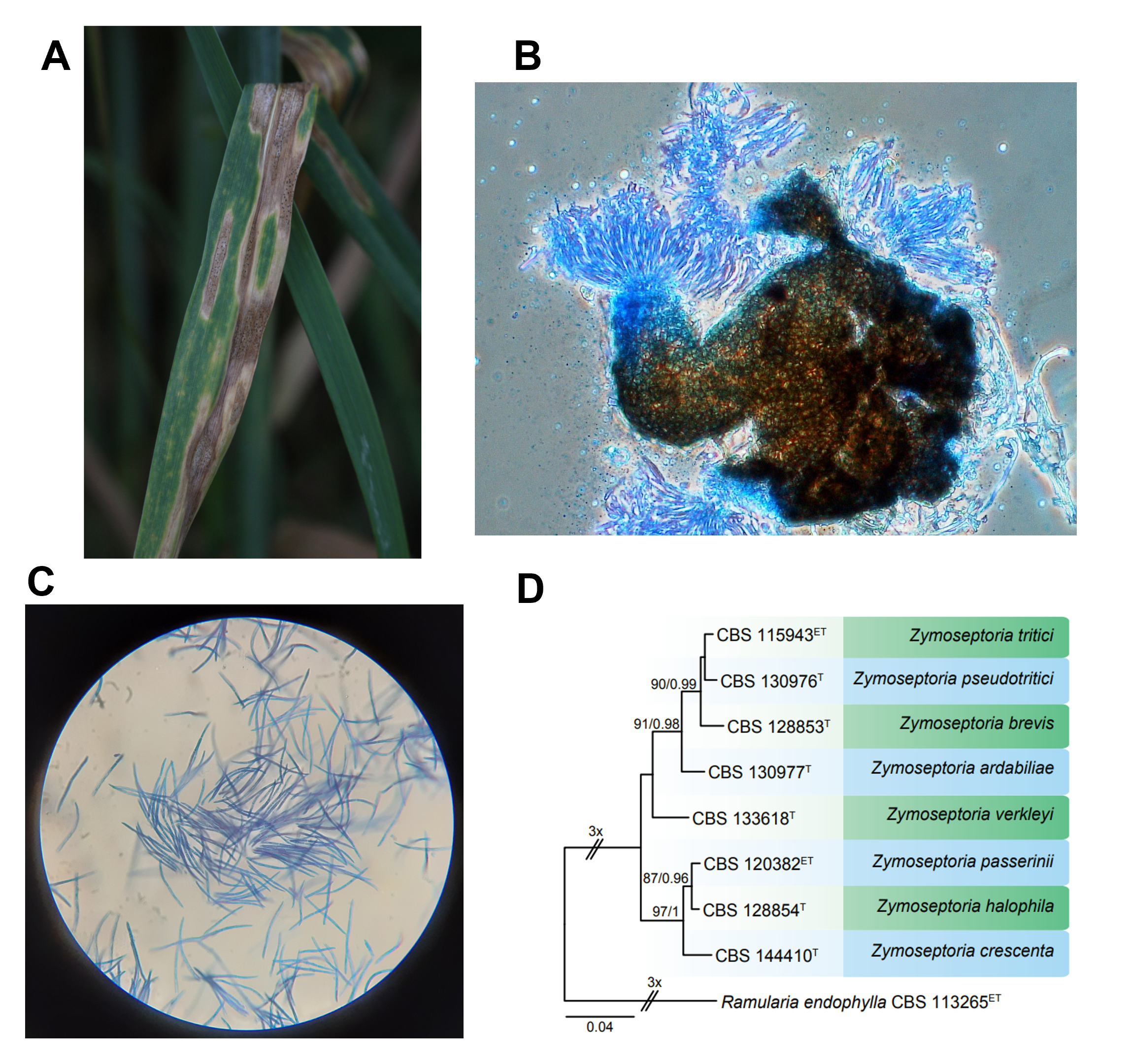 Zymoseptoria tritici (syn. Mycosphaerella graminicola) is a haploid, heterothallic Ascomycotina (Capnodiales; Dothideomycetes). The Zymoseptoria genus gathers seven additional species. Z. pseudotritici, Z. ardabiliae, Z. brevis, Z. verkleyi and Z. crescenta were isolated from wild grasses in Iran. Z. passerinii and Z. halophila were isolated from barley worldwide. The closest genus to Zymoseptoria is Ramularia that includes the barley pathogen Ramularia collo-cygni.
Z. tritici is a major fungal pathogen of wheat, responsible for the Septoria tritici blotch (STB) foliar disease. The infection process of Z. tritici is bi-phasic. Z. tritici acts like an endophyte during its asymptomatic phase and behaves as a destructive pathogen during its necrotrophic phase. Both sexual and asexual reproduction are observed in infected wheat fields. The disease is difficult to control, as the emergence of fungicide-resistant isolates has reduced the efficacy of many fungicides. Likewise, all resistant wheat cultivars carrying major resistance genes (Stb genes) have been defeated by the emergence of virulent isolates. Integrated disease management is required to control this disease.
Z. tritici is a major experimental model to study plant−fungal interactions, their evolutionary dynamics as well as their molecular basis. Z. tritici can be propagated in liquid and on solid media. The fungus is dimorphic as it displays both filamentous (hyphae) and yeast-like growth (blastospores) depending on culture conditions (media, temperature, host plant). It also differentiates chlamydospores, pycnidia, and pycinidiospores (asexual reproduction) in vitro. Z. tritici has a bipolar, heterothallic sexual reproduction, and experimental crosses can be performed on wheat leaves infected with isolates of opposite mating types.
IPO323 Z. tritici genome sequence was released in 2011 (Goodwin et al., 2011). This 39.7 Mb sequence comprised a total of 21 chromosomes which have been completely assembled from telomere to telomere. Centromeres of each chromosome of IPO323 have been mapped using ChIP-seq. The IPO323 Z. tritici genome is composed of 13 core chromosomes (CCs: 1.2−6.1 Mb) conserved across isolates, and 8 accessory chromosomes (ACs: 0.4−0.8 Mb), varying in number and size among Z. tritici isolates. Additional genomes of Z. tritici isolates from different geographic origins varied in size from 37.1 to 41.7 Mb, with 13 CCs and 4−8 ACs. Their gene repertoires highlighted a pangenome of 15,451 genes, among which 60 % were conserved across all isolates (core), and 40 % were accessory. IPO323 genome TE content was estimated between 17% and 20%. The most abundant TEs in Z. tritici were LTR-Gypsy and LTR-Copia Class I retroelements (70%), followed by Class II DNA transposons (22%). The distribution of TEs in the genome was not random, as AC chromosomes display a 2-fold higher content than CCs. A significant proportion of Z. tritici TEs (70%) was expressed, and specific TE families showed a high level of expression during infection or under specific stress conditions.
Four previous IPO323 annotations identified 10,933 to 13,260 gene models, but only one-third of these coding sequences were found to have identical structures. Novel data and annotation tools (IPO323 Iso-Seq and RNA-Seq transcripts, fungal protein sequences) were used to select the best structure among gene models from different annotation pipelines using InGenAnnot (Lapalu et al., 2023). 13,414 re-annotated gene models were predicted, including 671 new genes. This process improved 15-40 % of the previous gene models depending on the pipeline. 5' and 3'UTRs were also predicted for 73% of the gene models.
Genome Reference(s)
Please cite the following publication(s) if you use the data from this genome in your research:
Lapalu Nicolas, Lamothe Lucie, Petit Yohann, Genissel Anne, Delude Camille, Feurtey Alice, Abraham Leen N., Smith Dan, King Robert, Renwick Alison, Appertet Mélanie, Sucher Justine, Steindorff Andrei S., Goodwin Stephen B., Grigoriev Igor V., Hane James, Rudd Jason, Stukenbrock Eva, Croll Daniel, Scalliet Gabriel, Lebrun Marc-Henri
Improved gene annotation of the fungal wheat pathogen<i>Zymoseptoria tritici</i>based on combined Iso-Seq and RNA-Seq evidence
biorxiv.org
Goodwin Stephen B., Ben M'Barek Sarrah, Dhillon Braham, Wittenberg Alexander H. J., Crane Charles F., Hane James K., Foster Andrew J., Van der Lee Theo A. J., Grimwood Jane, Aerts Andrea, Antoniw John, Bailey Andy, Bluhm Burt, Bowler Judith, Bristow Jim, van der Burgt Ate, Canto-Canché Blondy, Churchill Alice C. L., Conde-Ferràez Laura, Cools Hans J., Coutinho Pedro M., Csukai Michael, Dehal Paramvir, De Wit Pierre, Donzelli Bruno, van de Geest Henri C., van Ham Roeland C. H. J., Hammond-Kosack Kim E., Henrissat Bernard, Kilian Andrzej, Kobayashi Adilson K., Koopmann Edda, Kourmpetis Yiannis, Kuzniar Arnold, Lindquist Erika, Lombard Vincent, Maliepaard Chris, Martins Natalia, Mehrabi Rahim, Nap Jan P. H., Ponomarenko Alisa, Rudd Jason J., Salamov Asaf, Schmutz Jeremy, Schouten Henk J., Shapiro Harris, Stergiopoulos Ioannis, Torriani Stefano F. F., Tu Hank, de Vries Ronald P., Waalwijk Cees, Ware Sarah B., Wiebenga Ad, Zwiers Lute-Harm, Oliver Richard P., Grigoriev Igor V., Kema Gert H. J.
Finished Genome of the Fungal Wheat Pathogen Mycosphaerella graminicola Reveals Dispensome Structure, Chromosome Plasticity, and Stealth Pathogenesis
PLoS Genet. 2011;7(6):e1002070. doi: 10.1371/journal.pgen.1002070