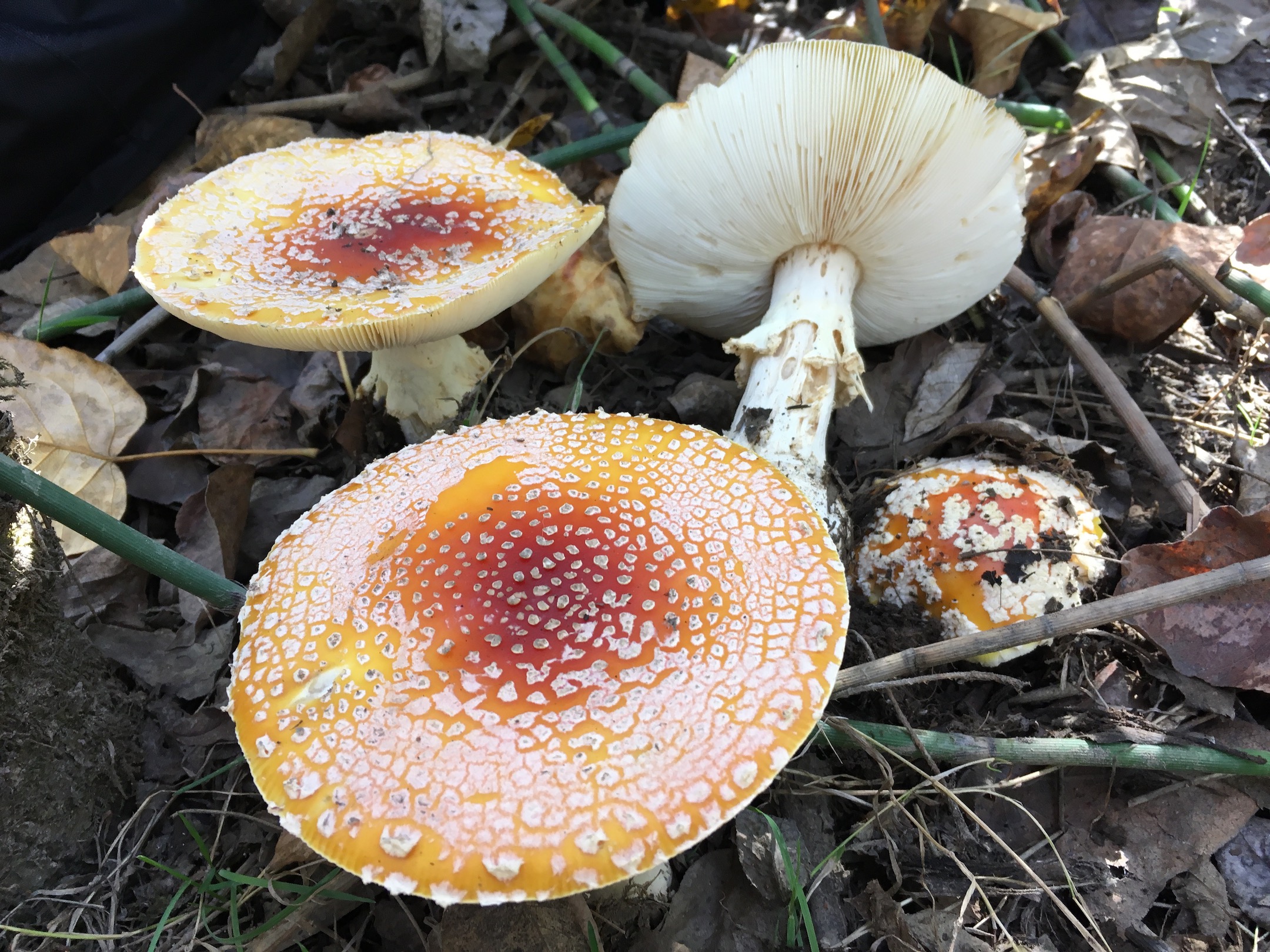 In the "1KFG: Deep Sequencing of Ecologically-relevant Dikarya" project (CSP1974), we aim to sequence additional sampling of genomic diversity within keystone lineages of plant-interacting fungi and saprophytic fungi that are of special ecological importance for understanding terrestrial ecosystems. In addition, comparative genome analysis with saprotrophic, mycorrhizal and pathogenic fungi will provide new insights into the specific and conserved adaptations associated with each fungal lifestyle.
Amanita muscaria var. formosa Pers. sensu Thiers – Fly Agaric
Amanita muscaria var. formosa Pers. sensu Thiers is the current, most widely accepted name to apply to western North American variants of a North American species closely related to Amanita muscaria (Siegel & Schwarz 2016). Phylogenetic reconstruction of the Amanita muscaria species complex has revealed phylogeographic structure, and suggests this isolate belongs to the North America I clade (Geml et al. 2008). It is clear that this clade represents a separate species from Amanita muscaria (L. per Fr.) Hooker; however, the identity of the species is still in question. Preliminary data suggests that the preferable name for this is Amanita chrysoblema G.F. Atk., which was originally described as Amanita muscaria var. alba Peck, however type studies are required to confirm this (Tulloss personal communication). The species complex is characterized by having a large cap with white patches, a distinctive veil with warts, and a volva with concentric rings. Different varietal forms have red, yellow, or white caps. The genome isolate was derived from tissue culture of a sporocarp found fruiting with Populus trichocarpa on 10/28/2016 in a wild stand in Leavenworth, Washington. Amanita muscaria var. formosa sensu Thiers is an associate of Populus and will be an important tool for understanding community assembly and function of the Populus root microbiome.
Researchers who wish to publish analyses using data from unpublished CSP genomes are respectfully required to contact the PI and JGI to avoid potential conflicts on data use and coordinate other publications with the CSP master paper(s).
References:
Geml J., Tulloss R.E., Laursen G.A., Sazanova N.A., Taylor D.L.. Evidence for strong inter- and intracontinental phylogeographic structure in Amanita muscaria, a wind-dispersed ectomycorrhizal basidiomycete. Mol Phylogenet Evol. 2008 Aug;48(2):694-701. doi: 10.1016/j.ympev.2008.04.029. Epub 2008 Apr 29. PMID: 18547823.
Siegel, N. and Schwarz, C., 2016. Mushrooms of the Redwood Coast: A Comprehensive Guide to the Fungi of Coastal Northern California. Ten Speed Press.
Thiers, H.D., 1982. The Agaricales (gilled fungi) of California. 1. Amanitaceae. Eureka, Mad River Press.
Tulloss, R.E. and Yang, Z.L., 2016. About the Amanitaceae. Studies in the Amanitaceae. Available from: http://www. amanitaceae.org.