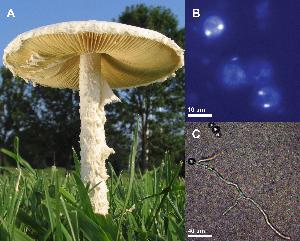 Enzyme systems associated with the decomposition of dead plants may provide resources for the development of biofuels as an alternative energy source. Fungi growing in grassland ecosystems degrade plant cellulose to access carbon for growth. The saprotrophic basidiomycete, Amanita thiersii, grows in lawns in central North America and appears to be expanding its range from Texas north to Illinois. Sequencing the genome of A. thiersii will lead to the discovery of cellulases and other enzyme systems which may be useful to biofuels development. Closely related Amanita species are symbiotic, and grow in a mutualism with plants. The comparative genomics of A. thiersii and these ectomycorrhizal fungal species is likely to teach us about how and why genomic architectures change as species evolve symbioses.
Wolfe BE, M Kuo, Pringle A. 2012. Amanita thiersii is a saprotrophic fungus expanding its range in the United States. Mycologia 104:22-33.
Genome Reference(s)
Please cite the following publication(s) if you use the data from this genome in your research:
Hess J, Skrede I, Wolfe BE, LaButti K, Ohm RA, Grigoriev IV, Pringle A
Transposable element dynamics among asymbiotic and ectomycorrhizal Amanita fungi.
Genome Biol Evol. 2014 Jun 12;6(7):1564-78. doi: 10.1093/gbe/evu121
Chaib De Mares M, Hess J, Floudas D, Lipzen A, Choi C, Kennedy M, Grigoriev IV, Pringle A
Horizontal transfer of carbohydrate metabolism genes into ectomycorrhizal Amanita.
New Phytol. 2015 Mar;205(4):1552-1564. doi: 10.1111/nph.13140